Sunrise Ranch brings together key elements that are vital for the experience and teaching of healing and wellness.
The closeness of nature in the Rocky Mountain foothills
Food grown in our valley and at nearby farms using sustainable methods
The surround of the Sunrise Ranch community
Gifted healers and teachers
We see consciousness as the critical link between the Life Force within all people and the body. So we feature programs that share the research that documents the part that consciousness plays in physical health. And we host workshop leaders who teach people consciousness practices that bring healing.
We believe that people are well when all the dimensions of their human experience come together—mind and heart connecting to Spirit, which invigorates the body. And a vigorous body helps to bring tranquility to the mind and peace to the heart.
We are proud of the gifted teachers and healers who do their work here. They offer leading-edge knowledge and experience that isn't easily available elsewhere. Jonathan Goldman has offered his Healing Sounds Intensive at Sunrise Ranch for 20 years. Diana de Winton brings a lifetime of healing experience to her Attunement sessions, which are a gentle but powerful experience of vibrational healing. Many other workshop leaders and healers have shared their work here over many years.
So we invite you to attend a workshop or enjoy a personal retreat. Hike on one of our trails in the beautiful Rocky Mountain foothills surrounding Sunrise Ranch. Share an Attunement or experience a spiritual coaching session. Relax with time to yourself in our sauna or hot tub, or book a massage. You will be nourished by locally grown foods served with love.
Diet & Nutrition
The meals served at Sunrise Ranch feature local food traditionally prepared by expert chefs. We believe that food should be prepared and served with love; it should be delicious, feeding the body and nourishing the soul. Visit our Foods and Kitchen page for more information.
As much as possible, we serve vegetables grown on our own land and in our own greenhouses. We serve eggs from our own pasture-raised chickens and we serve beef from our own grass-fed cattle. Sunrise Ranch has been farmed without chemical fertilizers or pesticides since 1945, when we purchased this property.
We are fortunate to have Eden Valley Institute as our neighbor. It is operated by the Seventh-day Adventists, and they grow many of the vegetables we enjoy.
When a given food isn't available from our own valley, we look to farms in the local area. If it isn't available there, we look further afield. We think it's important to source our food from small farms.
Sunrise Ranch is a teaching and demonstration site for the principles of the Weston A. Price Foundation. Those principles arise from proven traditional cooking methods around the world. They emphasize nutrient-dense plants, humanely raised animal products, and organic ingredients that our chefs transform into nourishing meals three times a day. We pride ourselves on serving nutritious, delicious vegetarian and vegan meals for people who desire it. Meals are served buffet-style, and a salad bar with homemade dressing is always available. We are sensitive to our guests' special dietary needs and always offer options for vegan, gluten-free and dairy-free diets.
---
Yoga
Yoga at Sunrise Ranch is a refreshing, centering experience. The quiet surroundings encourage yogis to travel deeply inside without worry of disturbance, and the private spaces allow plenty of room to spread out. The Green Ridge room features a special floating wood floor that absorbs noise and helps reduce vibration from walking—perfect for small or large yoga classes.
See our Yoga Classes page to learn about classes we have all year long.
For Retreat Leaders
Whether you choose energizing morning asanas or a calming evening practice, there are a number of ways to set the atmosphere in your class. Adjustable lights, extra mats, cushions and sound systems are available in the Green Ridge and Mountain View rooms at no additional cost. Give your retreat attendees the experience of invigorated mind, body and spirit by holding a class on our large lawn near the fire pit, which offers fresh mountain air and sweeping views of Eden Valley.
---
Bodywork
The human body is the vehicle we must use to operate within the physical world. The better that we take care of this vehicle, the longer we get to experience being and interacting in the world, and the more easily we are able to express our influence upon our surroundings. There are many ways to take care of the body, and some of the most beneficial and popular forms are called bodywork. This includes massage, chiropractic, acupressure and acupuncture, cranial sacral and many other modalities.
The human body is an intricate system composed of muscles and organs, tissues and bones, and multiple systems of absorption and elimination. The ideal care of the body often warrants the assistance of another person with a particular skill to help the systems work properly. There are energetic meridian systems that run through the physical body, and many parts of the body serve as a holographic reflection of the well-being of the entire system.
Bodywork is an excellent way to serve the health and healing of the body without prescription pharmaceuticals or invasive surgeries. When the muscles are relaxed from holding tension and the energetic pathways are opened up, then the body can release toxins and open up lines of communication within itself. Preventative maintenance is a much better practice than simply responding to symptoms when they develop. Give yourself the gift of bodywork to nurture your health. It's just a better way!
---
Vibrational Healing
The vibration of our thoughts, words and actions can have a profound impact on the well-being of others, ourselves and our planet. Sunrise Ranch is dedicated to raising the vibration of the earth through its people. By holding ourselves and each other in high vibration, our collective positive power produces a ripple effect on the rest of the world.
We feature several workshop facilitators who practice vibrational healing with sound. Workshop participants combine specific intentions with tonal chanting to send healing to others through their voices. Musical instruments are sometimes incorporated to deepen the experience.
Healing Chant
Within the depths of the human soul lies the source of life-giving energy and healing. For ages, mystics have accessed this inner power through the human voice. Healing Chant brings this experience into the current day.
As a practitioner, you will learn to bring musical tone and creative vibration through the human energy field to transmute experience, bringing exhilaration and spiritual healing. You will also draw upon the healing energies and tones created by the group for a unique experience and transformation during this workshop. Many people continue to use Healing Chant as a spiritual practice, much like the mystics have done throughout history.
Healing Chant works with the parts of the human experience that need mending and draws on our innate spiritual resources to promote wholeness and well-being for us and for our world. Healing Chant activates the breath and the entire vocal capacity. It initiates an energizing vibration that reaches every organ, gland and tissue of the body. It is an energy-medicine practice that utilizes spiritual emanation through the hands, in combination with the voice, to create a radiant, collective energetic field.
Participants access their own ability to bring healing through multiple dimensions of their expression:
Voice
Hands
Thoughts
Emotions
Eyes
The workshop uses improvisational forms of harmonic and melodic chant. It also employs the energy-medicine practice of Attunement along with the chant.
David Karchere developed and leads Healing Chant around the world. We are glad to offer Healing Chant here in the Chalet at Sunrise Ranch from time to time. The Chalet sits among the pines and granite boulders on Green Ridge above the rest of the Ranch, offering beautiful views of the valley. It is also a wonderfully resonant building.
The spiritual basis for the retreat requires acceptance of no particular belief or tradition, only a genuine openness to the release of spiritual current through the voice. If you wish to participate in a deeply nourishing and healing time of spiritual communion through chant, you are invited to participate. No particular expertise or experience is required, just an openness of heart and spirit.
---
Energy Healing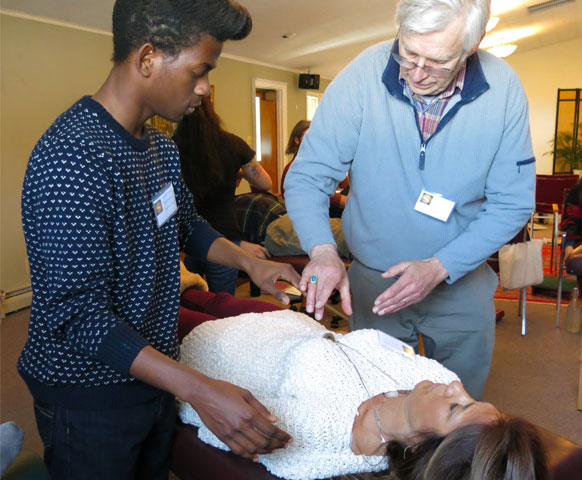 Attunement (Endocrine System)
Attunement is an energy-medicine practice and a consciousness practice. Through subtle shifts of consciousness, a person attunes to the spiritual powers within his or her own Being and brings a healing influence to their world.
For people who seek a spiritual basis for vitality and health at all levels, Attunement offers a simple yet profound way to find it. For people who seek to bring wellness to others, Attunement assists them to deepen the spiritual foundation for their work.
The Attunement School at Sunrise Ranch teaches and practices an awareness of energy medicine that has been passed down through the ages. In the 1940s and '50s, Lloyd Arthur Meeker and others who worked closely with him developed an enlightened process for bringing Attunement that was centered in the endocrine glands of the human body. In this sense, the process was body-centered. The process they developed was also spiritually centered—based on the principle that increasing conscious openness spiritually leads to greater attunement mentally, emotionally and physically.
In 1952, Lloyd Arthur Meeker conducted the first six-month training course in Attunement. Today, after decades of sharing Attunements in the Sanctuary at Sunrise, the building holds a palpable atmosphere of deep inner connection. Sunlight radiates through the stained glass on each end of the waiting room. The light of spirit lingers in the air. While there, you may have the feeling … I am home.
The Attunement School at Sunrise Ranch teaches the same foundational principles of Attunement that Lloyd Arthur Meeker taught when he founded the practice many years ago. Teachers at the School now bring their own firsthand understanding and experience of Attunement to the courses they teach. So they bring freshness and relevance to the issues that people face today. For more information about Attunement, visit the Attunement website.
Receiving an Attunement
Attunement Practitioners offer sessions to clients that bring well-being through an energetic exchange through the hands. Attunement is offered without physical touch. The Practitioner places his or her hands over the endocrine glands, nervous system contact points, organs and systems of the body.
Attunement Practitioners invite participants to connect to the Source of Life within them. The goal of Attunement is to increase the energetic flow while removing blockages to that flow so that a person's core reality can emerge.
As the hands are held over specific areas of the body, the Attunement current activates the free flow of universal life energy between the spiritual and physical dimensions of the body, bringing balance, harmony, health and well-being.
To share an Attunement at Sunrise Ranch, you can make an appointment by calling (970) 679-4200 or by emailing Diana de Winton at ddewinton@emnet.org.