Even if you don't think of yourself as an artist, you are! Everything in life is just a form of art waiting to be created.
Think about it … anything, absolutely anything, can be done so masterfully that the actions and subsequent creations become a work of art. This is what we call a "masterpiece." We are continually creating and offering our art to the world through the expression of our lives, even before we have evolved into mastery. Art is often thought of as being limited to certain categories of creativity—dance, sculpture and music, for example. In fact, art isn't limited to any particular category. Art is simply expression through form … and that is life.
The arts obviously provide us with an outlet for creative expression. They open up a window of insight, allowing us to peer through the perspective of another. You might see life completely differently from everyone else. Art lets you express what you see and how you see it. It also helps us receive others' viewpoints through a variety of mediums, such as pictures, words, movement, music, or the creation of forms. Any form can be used to creatively express yourself and the unique quality of your perception.
Engaging in the arts is proven to have positive influences on our physical bodies, as well as our mental and emotional states. It has been shown to reduce stress and anxiety, and improve concentration, cognitive ability and critical thinking, while increasing emotional expression and spontaneous flow. Study of the arts, in all of its many forms, is increasingly accepted as an important factor in achieving success in school, work, relationships, conscious development and life itself. Try out a new form of art. Let your creativity flow where it feels called to express itself. And enjoy the process of discovering what type of artist you are!

Artistic Expression
Personal creative expression is highly valued at Sunrise Ranch, and though this expression may take different forms for each person, exploring an artistic practice is one way for individuals to get in touch with their inner creator. Residents and visitors alike find rejuvenation and release from picking up a paintbrush and producing colorful works of art to take home.
Visit our Art Classes page to learn more.
---
Video Production at Sunrise Ranch
The Video Production team at Sunrise Ranch is composed of skilled dreamers dedicated to capturing the various aspects of life at the Ranch through videos and still photographs. This is a place of love and wholesomeness, where our goal is to honor the Divine in all and embody it in ourselves, while sharing this new paradigm of spiritual and material sustainable living. We disseminate our content through our websites, Facebook, YouTube, blogs and other venues.
Video Production projects are focused on what we value most:
Honoring and celebrating Universal Being in all Creation
Demonstrating spiritual and material sustainability
Serving others by giving of our abundance and our gifts
We give of our abundance through inspiring and helping others to awaken to the blessings of the Divine in themselves, so that they can experience their own unique, divine gifts, which, in their giving, bless the world. We're passionate about our work, and we endeavor to inspire and teach others in the areas of spirituality, wellness, sustainability, community, personal development and the arts.
We play our role by broadcasting our truth with integrity and sharing glimpses of our day-to-day lives. We focus on five major project areas:
Sunrise Ranch culture
Educational offerings
Spiritual and inspirational messages
Promotional materials
YouTube channel content
---
ARISE Music Festival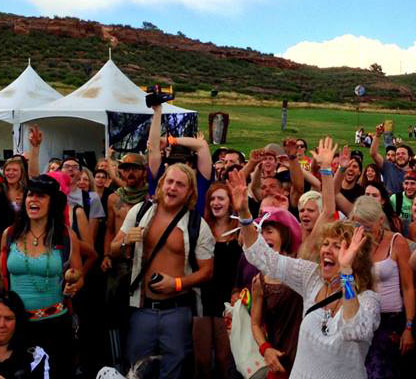 ARISE is best described as a music, yoga, activism and co-creative camping festival. The first festival took place in August 2013; it has grown every year since. Located just 65 miles north of Denver, Colorado, at Sunrise Ranch, this breathtaking Rocky Mountain oasis is the perfect container for participants to entertain and be entertained, explore their creative potentials, connect with nature, stretch out, dive in and dance. It features seven stages of live music, yoga, workshops, theme camps, an art gallery and installations, children's village, speakers, films and camping on 100 beautiful mountain valley acres.
The festival is also the stage for the StarWater specialty coffee house, the Rainbow Lightning Children's Village, an acclaimed Yoga Zone, the Wisdom Village, workshops, ARISE Dialogues, the Solutions Village and Healing World. The Sunrise Ranch Dome—a permanent 400-seat domed theater with excellent acoustic properties—is the venue for internationally recognized speakers, films, workshops, and dynamic panel discussions with thought leaders and innovators.
ARISE Music Festival's intention is to create the kind of experience that is uniquely possible when we are all in it together from beginning to end. We hope you choose to join us. It's going to be magical.
Music
Music genres range from bluegrass to electronic, and several performances feature acrobatics, fire spinning and dancing. ARISE music is famous for its conscious messages and activist performers. These themes create cohesion between artists and audience while inspiring conscious activism. Over the years, the festival has featured such luminary talents as Michael Franti, Beats Antique, Xavier Rudd, Galactic, The Polish Ambassador, Keller Williams, Groundation, Greensky Bluegrass, The Infamous Stringdusters, Nahko and Medicine for the People, with their fiery messages of unity and change, Random Rab and many more.
In 2016, Arise Music Festival featured Ziggy Marley and Jurassic 5, Hardworking Americans, The New Mastersounds, Govinda, and many more. In 2017, we welcomed Atmosphere, Tipper, Ani DiFranco, Rising Appalachia and many more. The lineup in 2018 included Slightly Stoopid, Thievery Corporation, Trevor Hall, The Lil Smokies, Ayla Nereo and many others.
With a focus on conscious music, ARISE Music Festival seeks performers in a wide variety of genres. You may find that you discover as many new bands at ARISE as the number of bands you came to see. For the full ARISE lineup, visit arisefestival.com.
Yoga
As ARISE is partially a yoga festival, a shady tent decorated with tapestries and a full sound system has been designated just for yoga. Renowned teachers from several states come to ARISE, including Ryan Narayan (Phoenix), Tapasyogi Nandhi (Los Angeles), and Kiefer Avi (Boulder). Yoga styles taught include Kundalini, Hatha, Power Vinyasa and more. ARISE is the only festival to introduce the new SriDaiva yoga, a form based on tensegrity. Kirtan and ecstatic dance give even more variety to the mix of classes and activities. For the full teacher and activity lineup, visit arisefestival.com .
Camping
After all that dancing and stretching, get some rest in your tent or RV—campsites are located a stone's throw from all the action. Camping in the wide field at Sunrise Ranch, surrounded by other festival-goers, is the perfect way to spend the weekend. There are three options for campgrounds: Big Meadow, the main location for general admission camping; West Side, VIP camping located across the road from the festival; and A-OK, a Show Sherpa service that includes tent, cot, chairs and coffee. RV and car camping is also available; visit arisefestival.com for more information.