Even if you don't think of yourself as an artist, you are! Everything in life is just a form of art waiting to be created.
Think about it … anything, absolutely anything, can be done so masterfully that the actions and subsequent creations become a work of art. This is what we call a "masterpiece." We are continually creating and offering our art to the world through the expression of our lives, even before we have evolved into mastery. Art is often thought of as being limited to certain categories of creativity—dance, sculpture and music, for example. In fact, art isn't limited to any particular category. Art is simply expression through form … and that is life.
The arts obviously provide us with an outlet for creative expression. They open up a window of insight, allowing us to peer through the perspective of another. You might see life completely differently from everyone else. Art lets you express what you see and how you see it. It also helps us receive others' viewpoints through a variety of mediums, such as pictures, words, movement, music, or the creation of forms. Any form can be used to creatively express yourself and the unique quality of your perception.
Engaging in the arts is proven to have positive influences on our physical bodies, as well as our mental and emotional states. It has been shown to reduce stress and anxiety, and improve concentration, cognitive ability and critical thinking, while increasing emotional expression and spontaneous flow. Study of the arts, in all of its many forms, is increasingly accepted as an important factor in achieving success in school, work, relationships, conscious development and life itself. Try out a new form of art. Let your creativity flow where it feels called to express itself. And enjoy the process of discovering what type of artist you are!

Artistic Expression
Personal creative expression is highly valued at Sunrise Ranch, and though this expression may take different forms for each person, exploring an artistic practice is one way for individuals to get in touch with their inner creator. Residents and visitors alike find rejuvenation and release from picking up a paintbrush and producing colorful works of art to take home.
Visit our Art Classes page to learn more.
---
Video Production at Sunrise Ranch
The Video Production team at Sunrise Ranch is composed of skilled dreamers dedicated to capturing the various aspects of life at the Ranch through videos and still photographs. This is a place of love and wholesomeness, where our goal is to honor the Divine in all and embody it in ourselves, while sharing this new paradigm of spiritual and material sustainable living. We disseminate our content through our websites, Facebook, YouTube, blogs and other venues.
Video Production projects are focused on what we value most:
Honoring and celebrating Universal Being in all Creation
Demonstrating spiritual and material sustainability
Serving others by giving of our abundance and our gifts
We give of our abundance through inspiring and helping others to awaken to the blessings of the Divine in themselves, so that they can experience their own unique, divine gifts, which, in their giving, bless the world. We're passionate about our work, and we endeavor to inspire and teach others in the areas of spirituality, wellness, sustainability, community, personal development and the arts.
We play our role by broadcasting our truth with integrity and sharing glimpses of our day-to-day lives. We focus on five major project areas:
Sunrise Ranch culture
Educational offerings
Spiritual and inspirational messages
Promotional materials
YouTube channel content
---
ARISE Music Festival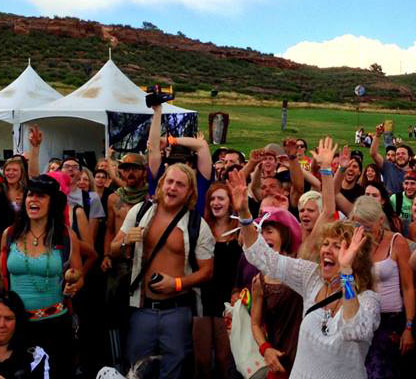 ARISE was best described as a music, yoga, activism and co-creative camping festival. The first festival took place in August 2013; it grew every year after that.
Located just 65 miles north of Denver, Colorado, at Sunrise Ranch, this breathtaking Rocky Mountain oasis is the perfect container for participants to entertain and be entertained, explore their creative potentials, connect with nature, stretch out, dive in and dance. The festival featured seven stages of live music, yoga, workshops, theme camps, an art gallery and installations, children's village, speakers, films and camping on 100 beautiful mountain valley acres.
The last ARISE Music Festival at Sunrise Ranch took place in August 2019. We look forward to many more festivals of this kind in the future.