Sunrise Ranch features farm-to-table cuisine—we've got the farm and the table!
We feature seasonal and locally produced fresh, whole food in our dining room. Whether referring to fruit and vegetable produce or animal products, it's simply better when it's fresh. With today's increase of genetically modified foods and mass food production, going straight to the source of your food production is often the only way to know exactly what you are getting. Farm-to-table supports family farms, organic farming initiatives and sustainable agriculture.
Farm-to-table essentially means that the food on your table came directly from a local farm and was prepared using raw, whole ingredients cooked from scratch. Chefs who practice farm-to-table concepts rely on fresh ingredients, often preparing the food only a few feet away from where it was grown. This affects both the taste of each dish and the nutritional content available in the meal. For every day that passes after harvest, there is a decrease in the nutritional content and life force in the fruits and vegetables produced.
We supply the Sunrise Ranch kitchen, first of all, from our own gardens and greenhouses, with our own grassfed beef and lamb and eggs from our own pasture-raised chickens. When we have a need for food that we cannot provide ourselves, we supply our needs from our neighbors in the valley, Eden Valley Institute, which is operated by the Seventh-Day Adventists. When we can't supply our needs from in the valley, we look to local farmers here in Northern Colorado and to non-local sources.
We have been steadily increasing the proportion of food grown on Sunrise Ranch in the past decade.
Can you taste the difference between a freshly harvested tomato that was nurtured by a loving gardener and one that has traveled many miles and has been sitting on a grocery store shelf for days and days? Imagine that difference in every meal you make and eat.
---
Sunrise Cuisine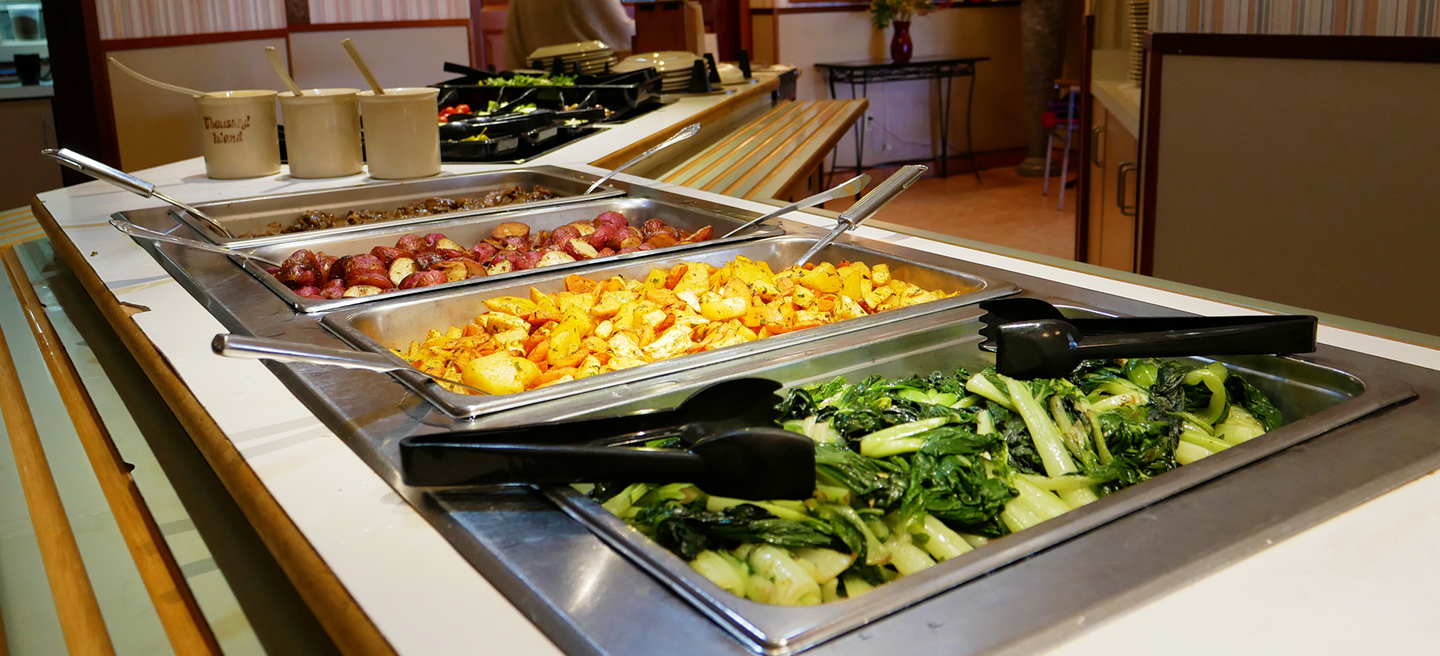 Sunrise Ranch provides meals for our conference guests and the Sunrise community. We purchase our chicken and pork from people we know who live in our area. We raise our own grassfed beef and lamb. We believe that freshness and personal relationships are the best quality controls we can provide. This system ensures that our food, from beginning to end, is honored and respected. The vegetables we serve are either grown at Sunrise Ranch or purchased from small, local farms, as much as the growing season will allow.
---
Food Preparation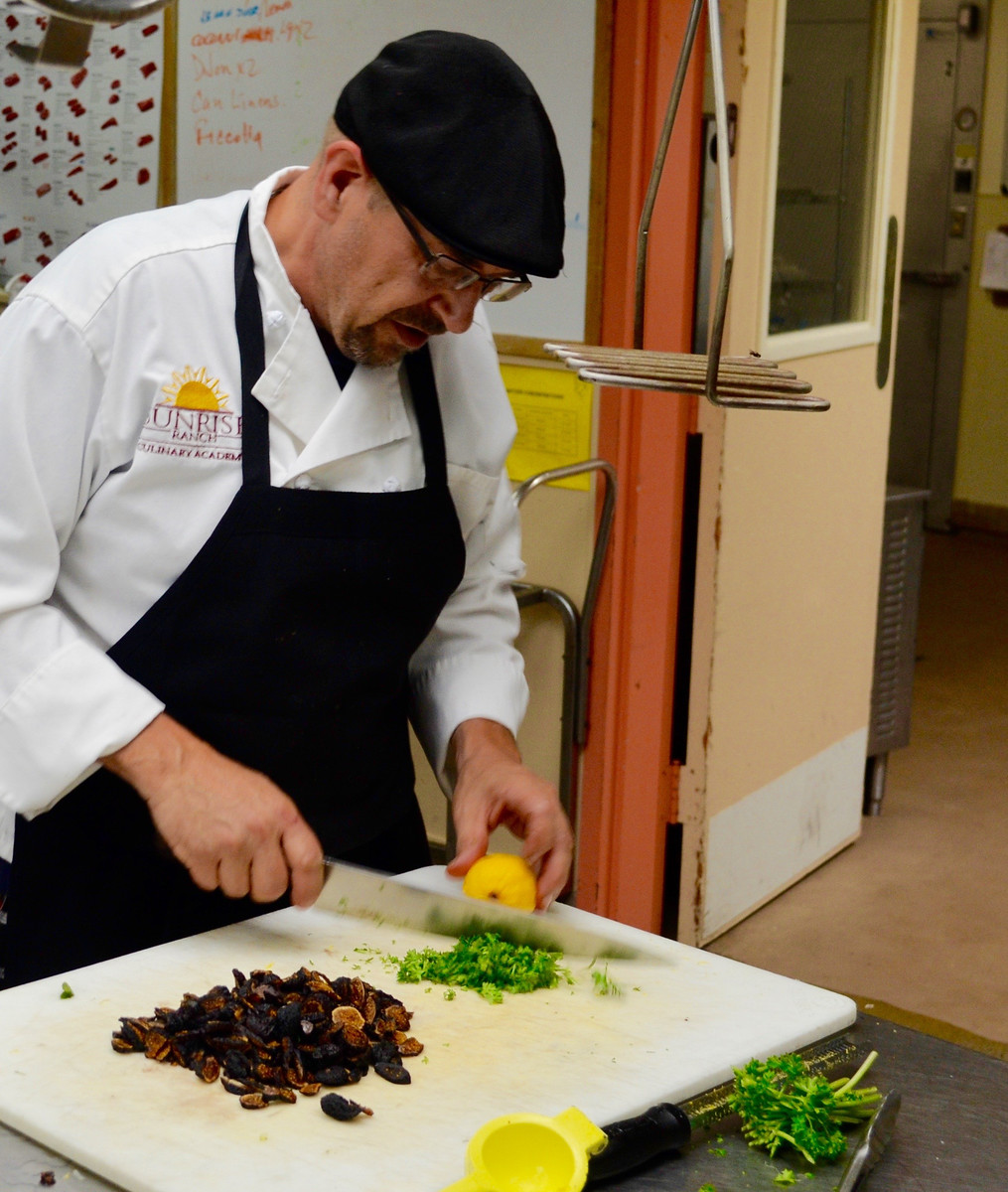 We use traditional wisdom in our menu planning to preserve the life force present in food. We use healthful foods, such as bone broth, homemade soups, legumes, leafy greens, raw vegetables, including sprouts, coconut milk, and homemade salad dressings. We do not use canola oil, and we limit desserts to a few times per week. We make most of our own bread and we make our own granola. Being a kitchen that serves the public, we keep the high sanitation standards of our local health department. We applaud the work being done by many people today to bring wholesome practices to food preparation. You will find this is always the case at Sunrise Ranch.
An Atmosphere of Love
For the Sunrise kitchen staff, the atmosphere of love is paramount. You can feel the atmosphere of gratitude as we cook, and we bring a spirit of blessing to the food and our guests.
Special Diets
We offer vegetarian, vegan, wheat-free, and dairy-free diets when requested at least two weeks before a conference. We can sometimes accommodate attendees with other dietary needs, including allergies. Please contact us in advance to inquire about any special arrangements. If we are unable to accommodate special requests, those guests will need to provide their own food.
Please contact us in advance of your arrival at (970) 679-4200 if you have dietary needs beyond our generous selection of standard diets. Additional costs may apply.
Snacks
Coffee, tea, fruit and trail mix are served in the dining room for morning snacks. Afternoon snacks include fruit, a variety of cookies and/or other assorted goodies.
Guests Rave About the Food
People often comment:
"Outstanding! Delicious, well-rounded and healthy."
– Coby | Gestalt conference

"The food here is the best I have ever eaten at a conference center. Thank you for the vegetarian options."
– Frances Bachelet | Actonics

"On a wheat-free, dairy-free diet, thank you for keeping me well fed. The food was excellent! Very fresh. Whoever does the cooking or assisting really knows what they're doing and lives it! The attention to detail shows."
– Kathy Schermerhor | Vipassana

"I could feel the love in the food, and it was so nourishing."
– Anonymous