This Week's Quotation:
Let's get loose with compassion. Let's drown in the delicious ambiance of love. An awake heart is like a sky that pours light.

~ Ḥāfeẓ-e Shīrāzī, Persian Mystic
The Ambiance of Love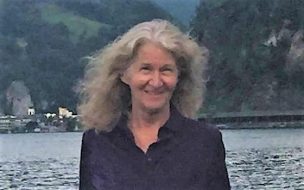 This morning I woke up with the words from a '60s song by the South African group, Four Jacks and a Jill, playing in my head: "It's a strange, strange world we live in." Indeed. Unprecedented strangeness. The pandemonium in this world often leaves me feeling discombobulated.
Have you been struggling with that too? I experience waves of panic that suddenly wash over me for reasons completely unknown to me. And if I'm not astute, my mind quickly scurries down the rabbit hole, desperately searching for reasons.
My solution to this is a pow-wow with my soul. I ask for guidance and support. Admittedly, some days it requires several check-ins to maintain the perspective of heaven. I'm deeply grateful God gave us a sense of humor. It's been a lifeline for me this past year.
If you've been feeling like psychic flypaper as well, it's important to identify what serves as a lifeline for you. Hafez offers great counsel: Let's get loose with compassion. May we be gentle with ourselves and everyone else. It's challenging to evolve our consciousness and overcome the human habit of polarization and division.
Additionally, let's drown in the delicious ambiance of love. Not "let's take a dip," but "let's drown." Let's completely surrender to the delicious ambiance of love so that we die to anything that interferes with our seeing that everything is whole, complete, and the manifestation of God in the world.
Then, whatever arrives at our doorstep, we are equipped to respond from an awake heart…like a sky that pours light. We radiantly shine. We share our compassion, our grace, and our love without concern for results.
About Open Windows
We, the authors of this blog, dedicate it to the transparent exploration of the world's sacred scripture and enlightened spiritual thought. We believe that the original inspiration of all faiths comes from a common source, named and revered in a myriad of ways. With that understanding, the innumerable symbols, beliefs, and practices of faith cease to divide. They become open windows to a common reality that inspires and unifies us. We find deeper insight and nourishment in our own faith and from the expression of faith from others.
We hope these weekly quotations and meditations speak to your heart and soul.