This Week's Quotation:
Whatever happened, happened for the good. Whatever is happening, is happening for the good. Whatever will happen, will also happen for the good.

~ Bhagavad Gita
All is Well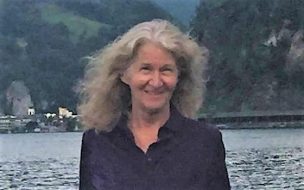 I often wonder if other people struggle with maintaining faith in this counsel from the Bhagavad Gita as much as I have over the past several years. Each time I become aware of another horrific story of people enduring great trauma, I have to remind myself that somehow, in some way, whatever is happening is happening for the good. Even when it defies my mind's ability to comprehend.
After all, while it may have a strong gravitational pull, the doom and gloom perspective doesn't serve anyone. Since we all walk this earth with one foot in the world of matter and the other in the invisible world, I find I feel more balanced when I am able to allow that there's both horror and beauty in our world. But that steadiness doesn't come without awareness.
When I do get caught up in the darkness and catch myself, I'm grateful for the moment as an opportunity to begin again. That is, to re-member who I am and that I am here to bring what only my individuated spark of infinity can contribute. All that is asked of any of us is to give the best of ourselves to the specific role we play in bringing heaven to earth. Still, it takes astuteness to prevent self-degradation when our best is below the standard we strive to uphold. No worries. We have the support of each other to assist in the re-membering. And, we have endless opportunities to begin again.
This new year, I wish everyone peace with whatever the mind struggles to comprehend and loving support for cultivating mental and emotional states that prepare each of us to do our part to bring the light whenever and wherever it is needed. May we all have ah-ha! revelations that lead to cathartic integrations. And may our days be blessed by unexpected kindness, uncommon delights, and spontaneous satisfactions. By the Grace of God, may Love be our way as we walk with gratitude in celebration of the Great Mystery.
About Open Windows
We, the authors of this blog, dedicate it to the transparent exploration of the world's sacred scripture and enlightened spiritual thought. We believe that the original inspiration of all faiths comes from a common source, named and revered in a myriad of ways. With that understanding, the innumerable symbols, beliefs, and practices of faith cease to divide. They become open windows to a common reality that inspires and unifies us. We find deeper insight and nourishment in our own faith and from the expression of faith from others.
We hope these weekly quotations and meditations speak to your heart and soul.