This Week's Quotation:
This holy instant would I give to You. Be You in charge. For I would follow You, certain that Your direction gives me peace. If I need a word to help me, You will give it to me. If I need a thought, that You will also give. If I need stillness and a tranquil open mind, these are the gifts I will receive from You. You are in charge at my request. Your certainty is mine.

A Course in Miracles
A Holy Instant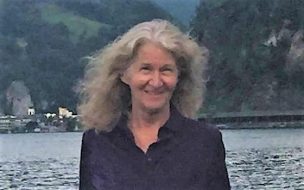 I treasure that this prayer reminds me that every moment of our lives is a precious, holy instant. To maintain a solid connection with our Creator is to consciously engage the art of living as a spiritual being in a human body.
The certainty that this quote speaks about is the certainty that there is a Divine Intelligence guiding us. And Love is its way. It's about having faith that even the nasty stuff of life can be loved into truth, light, and grace if the power of love is guiding our perceptions.
The challenge many of us confront is that sometimes we are so intent on being holy that we forget we're expressing our spirit in a human body. We are learning to love it all—the highs, the lows, the best, and the worst. We are remembering that it's all God—the fullness of Love contains it all.
The deeper our faith and certainty in our connection to the oneness of all things, the more fearlessly we can throw ourselves fully into life. There's a creative tension born of seeing the perfection in the imperfection while immersed in the mucky-muck of human life. Yet, as instruments of Divine expression with the pulse of spirit animating us and guiding our perceptions, we have certainty there is nothing to fear.
I like to think of the world as my ashram and all life forms as my gurus, teaching me about the formless through diverse forms. Whatever life puts before me is a divine gift—an opportunity to discover ever more of my own true nature and that of all being. To daily dance with life as a full participant with reverence for the bittersweet beauty of it all, is to be in this world but not of it. I say amen and Godspeed!
About Open Windows
We, the authors of this blog, dedicate it to the transparent exploration of the world's sacred scripture and enlightened spiritual thought. We believe that the original inspiration of all faiths comes from a common source, named and revered in a myriad of ways. With that understanding, the innumerable symbols, beliefs, and practices of faith cease to divide. They become open windows to a common reality that inspires and unifies us. We find deeper insight and nourishment in our own faith and from the expression of faith from others.
We hope these weekly quotations and meditations speak to your heart and soul.