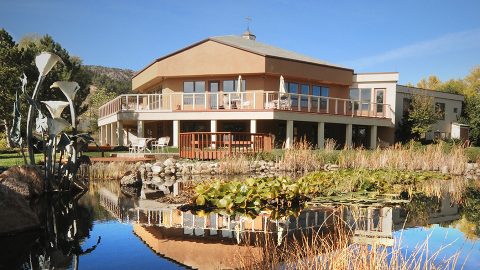 By Roshana Ariel
What is this place?
This is a question I've been asking myself over and over, since I found Sunrise Ranch online a few months ago.
Hi, my name is Roshana, and this is my first blog post on the Sunrise Ranch website.
Last September, I moved to Dancing Rabbit Ecovillage in northeast Missouri and began working part time as Directory Manager for the Fellowship for Intentional Community. In November, someone from the Ranch got ahold of me regarding the community's listing in the directory. At the time, I was just beginning to think that I might like to move to Colorado, and I had my eyes and ears open for intentional communities that might fill the bill. So when Sunrise Ranch came across my desk, I thought, "Hmmm, this looks interesting."
After living for a few months at the ecovillage, flush toilets and thermostats were beginning to sound quite appealing.
Before that, I was a managing editor at a daily paper for many years in Kansas. I'd ventured out of my comfort zone for a grand adventure, and I had sure found it at Dancing Rabbit.
Anyhoo, I was drawn to the location and dazzled by the surrounding beauty. Most of all, I was curious about the spiritual nature of the community, as the headquarters of Emissaries of Divine Light.
I'd never heard of this organization, and the name sounded hokey to me and raised red flags.
I need to mention my brother here. In his early twenties, my brother Chris joined a cult called the Divine Light Mission. My parents spent thousands of dollars having him chased around the globe by a deprogrammer. This was the '70s, when cults were popping up all over, and lots of teens and twenty-somethings were joining them; Hare Krishnas were handing out tracts in the airports and the Manson "family" murders of 1969 were still fresh in parents' minds. (By the way, the deprogrammer did eventually catch up with my brother and he's alive and well now, but the ordeal is one my family will never forget — thus, the red flags that immediately waved regarding EDL.)
I've got my own unusual spiritual history. I grew up attending an Episcopal church with my family; rebelled as a teen; and in my twenties, married a man that believed he was a prophet; over the course of our marriage he often "heard messages" that God was angry with me and that I needed to be "disciplined" physically.
When that chapter of my life finally closed, I joined a far-right, evangelical church, which warmly embraced me. But after many years thriving in that atmosphere, I realized that I didn't believe in hell, that I couldn't imagine a loving God throwing my son (an unbeliever by then) into a lake of fire, where he would be tortured every moment throughout all of eternity. So I left the Christian church and began exploring other belief systems. I eventually found that I related more easily with atheists than Christians.
So my spiritual history includes being a victim and a vagabond, a wanderer and a seeker and someone who no longer feels compelled to explain the unknowable mystery of our existence. It's OK to not know, I've finally decided, while continuing to learn about what is knowable through the lenses of cosmology, cultural history, evolutionary biology, physiology and so forth.
After all, I'm an editor. I like facts and evidence, clarity and brevity. And after my sometimes painful and circuitous spiritual journey, I'm skeptical about woo-woo and hocus-pocus, and I like to think my cult-o-meter is set fairly high.
But there I was, looking at this website—the ideal location for my desired next move—and under the Skilled Openings tab, was a job advertised in Publications. With my newspaper background, it seemed like a perfect fit.
So I applied.
Alas, a few days after submitting my application, reference letters and other documents, I learned that the position had been filled. But then they asked if I'd be interested in applying for the Full Self Emergence program.
I looked over all the information about it and said yes. (Check out their current programs here: sunriseranch.org/bas-programs/.)
So here I am, taking part in a program designed to "share the enlightened knowledge of the transformational process that frees people to be fully themselves" while putting in 30-some hours of editing work a week.
I'm writing this blog for two reasons—to be an on-the-ground reporter for those interested in learning more about what Sunrise Ranch is and what Emissaries of Divine Light teaches, from a "newbie" perspective; and to describe to those who might be interested in the Ranch as an intentional community what it's like to live here.
As you can imagine, I have reservations about what I'm going to learn and whether they can teach an old vagabond like me anything new—or anything I want to learn.
In any case, it's a beautiful place filled with lovely people.
My aim is to proceed with an open mind and an open heart. I feel welcomed and free to speak my mind, to take what makes sense to me and leave the rest, and to find my own way of expressing whatever creative spark resides in me.
Next time, I'll tell you more about my experiences in the Full Self Emergence program. Until then, I wish you well.