This Week's Quotation:
Every day, think as you wake up: Today, I am fortunate to have woken up. I am alive. I have a precious human life. I am not going to waste it. I am going to use all my energies to develop myself, to expand my heart out to others, to achieve enlightenment for the benefit of all beings. I am going to have kind thoughts towards others; I am not going to get angry or think badly about others. I am going to benefit others as much as I can.

~ Dalai Lama
Bountiful Blessings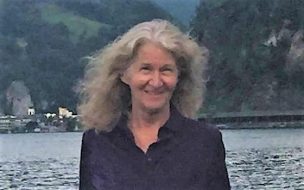 I am wishing you bountiful blessings this day of Thanksgiving that we celebrate in the United States. How perfect that Thanksgiving always falls on a Thursday, a day astrologers attribute to Jupiter. Recognized for its abundant and expansive energy, this giant planet has a mass more than twice that of all the other planets in the solar system combined. In other words, it carries quite a lot of oomph!
Therefore, Jupiter's energy amplifies whatever we give our attention to. So, imagine the possibilities when we maintain an attitude of gratitude. Appreciation sets up a powerful force field of attraction—it's like saying more of this please to the universe. Every time we say thank you, we transmit a celebratory Yes! to life, and that joy sends out ripples of blessings in the world.
Additionally, scientists have discovered that a daily practice of gratitude improves mental and physical health, lowers blood pressure, reduces depression, and increases happiness. It's also true that once we get gratitude flowing, our mind will generate more things to be grateful for, and before we know it, every cell in our being is grooving with gratitude.
Let us begin each day by expressing gratitude that we are all carriers of the Love that heals all. Let's be grateful that we can extend compassion, kindness, warmth, and a helpful hand to those in need. I'm grateful to you for joining me in this gratitude fest and spreading that good juju to every person and place you contact this holiday. This way, all seven billion of us on this planet will ride the gratitude wave together. Happy Thanksgiving!
About Open Windows
We, the authors of this blog, dedicate it to the transparent exploration of the world's sacred scripture and enlightened spiritual thought. We believe that the original inspiration of all faiths comes from a common source, named and revered in a myriad of ways. With that understanding, the innumerable symbols, beliefs, and practices of faith cease to divide. They become open windows to a common reality that inspires and unifies us. We find deeper insight and nourishment in our own faith and from the expression of faith from others.
We hope these weekly quotations and meditations speak to your heart and soul.