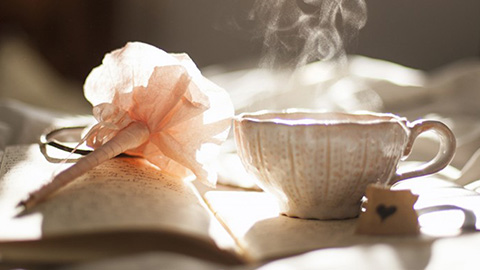 By Elizabeth Fritzler
I should really do more yoga.
How many times has this thought, or something similar, crossed your mind? If you're anything like me, you probably lost count a long time ago. I could use any excuse to rationalize my failure to get on the mat: not enough time, too tired, too hungry, not in the mood.
I know I'm not alone in my poor self-discipline. It's tough to jam time for a personal practice into the crevices of my already busy life, and I'm sure you feel the same. But we read endless blogs and articles about how beneficial a daily personal practice is, and despite our excuses, we're always left with that nagging feeling that we should be more committed.
Recently, however, I discovered there was a missing piece that could have been influencing my reluctance: a warm, welcoming space in which to practice. I didn't have a dedicated area for my yoga mat, and the greatest amount of floor space I could muster was a bit of carpet with my bedroom furniture shoved in the corners. Even then, I would usually end up hitting the corner of the bookshelf or my bed when I swung out my arms and legs.
It dawned on me that if I really wanted to do more yoga, I would have to find a way to get more excited about being in the room. For those of us living in a small space, this can pose problems. Luckily, it's not just the amount of space that makes a difference; it's how you prepare the space, too.
Ultimately, I found I was much more likely to do yoga once I had properly set up the space, both physically and mentally. Not only did I create a warm surround, but I also warmed up to the activity in my mind and body.
You're not alone
If you're struggling to stick with your practice—or start it—you're not alone. Whatever personal practice you choose, be it yoga, writing, meditation or something else, you can create a more purpose-driven life by being consistent. Here are a few tips to help you stay on track:
1. Make the area inviting. No one wants to meditate, draw or dance in a freezing-cold room under glaring fluorescent lights. Decorate your space with warm colors and pleasant smells. Life hack: Cover an incandescent light bulb with a manila envelope to create a soft yellow glow in the room. If your personal practice involves exercise, make sure you have a comfortable place to rest. If you've vowed to get outdoors every day, take something with you, like hot tea in a thermos, to enjoy on the way.
2. Mentally prepare. Even taking a few deep breaths before you begin can help center and focus your energy. Do a check-in with yourself before you start. If you're hungry or thirsty, take care of those needs first. Low blood sugar isn't conducive to a creative atmosphere. Take note of your emotions and thoughts, too. This isn't to say that you should banish any negative energy before beginning your practice, but be aware of that energy and use your personal practice to work through it.
3. Save the date. Schedule time for your practice on your calendar, and create a reminder if you think you'll forget. You might also ask a friend to join you. This creates accountability for both parties while encouraging you to persist. Don't feel like working on your short story today? Too bad! Your friend will be ringing your doorbell to join you any second. There's no backing out now.
4. Scale it back. A personal practice doesn't have to be a long, drawn-out experience. If you're having trouble sticking with a routine, consider taking a step down from high expectations of yourself. Start with gratitude in the morning: Name three things you're thankful for before you get out of bed. Work up to more time over a period of days, weeks or months.
Your personal time is important. The self-love and creativity you cultivate during your practice will continue nourishing you for the rest of the day while helping you find purpose in your life. As mythologist Joseph Campbell said, "You must have a room, or a certain hour or so a day, where you don't know what was in the newspapers that morning … a place where you can simply experience and bring forth what you are and what you might be."