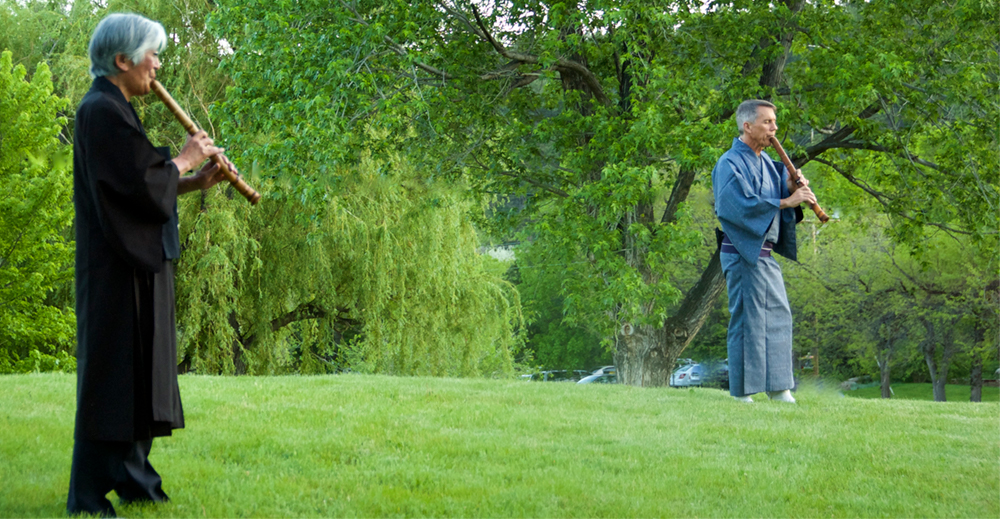 The Experience
Born out the energy of World Shakuhachi Festival 1998 in Boulder, the biggest event in the modern history of the shakuhachi, and presenting its 20th camp in as many years, the Shakuhachi Summer Camp of the Rockies is the longest running international shakuhachi intensive in the world. Campers benefit from the two decades of experience the organizers have accumulated facilitating the Rockies Camp, not only in Colorado, but in Sydney (2008) and Kyoto (2012) as well. Typically held from Thursday afternoon until Monday midday, it is also one of the longest camps in terms of days and actual hours spent playing the shakuhachi. Likewise, the combined performing and teaching experience of the faculty is unparalleled.
Rockies Camp has an emphasis on total immersion in playing, learning and experiencing the profound world of the shakuhachi, with Honkyoku (solo Zen music), Sankyoku (ensemble pieces), Folk, Modern Improvisation and more. There are also special concerts by the faculty and students and other engaging programs every night during Camp.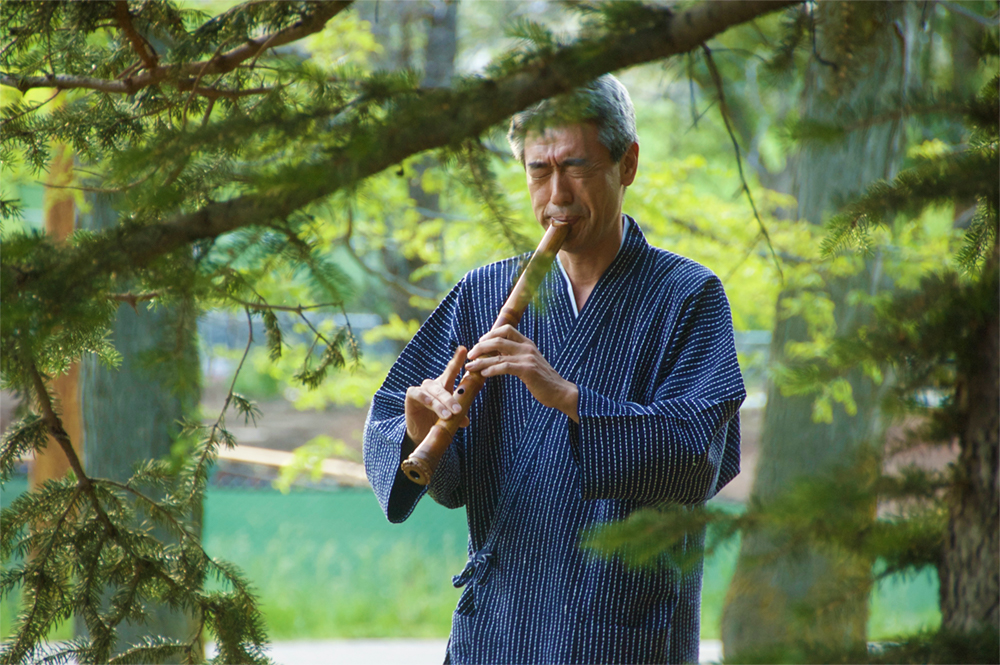 The Community
Of course, you won't be spending 24 hours a day doing shakuhachi in workshops, individual lessons, concerts, etc. Meeting and interacting with the other participants is often one's most lasting memory. Becoming part of and engaging with a community of shakuhachi kindred spirits benefits even players of as introspective a musical instrument as the shakuhachi. Seeing the "painful" struggle of others can be both reassuring and motivating. The Rockies Camp community continues to provide support, friendship, and opportunities to play together throughout the year to those who want a break from the solitude experienced by most shakuhachi enthusiasts.
Previous campers want to share the special experiences and community of shared study, practice and living that this camp creates with new participants from Japan, Europe, Australia, China and around the world. Our venue, Sunrise Ranch, is the ideal place for this. Located in a beautiful mountain valley just west of Loveland, Colorado, it enables all participants to study, dine and live together for the duration of the Camp.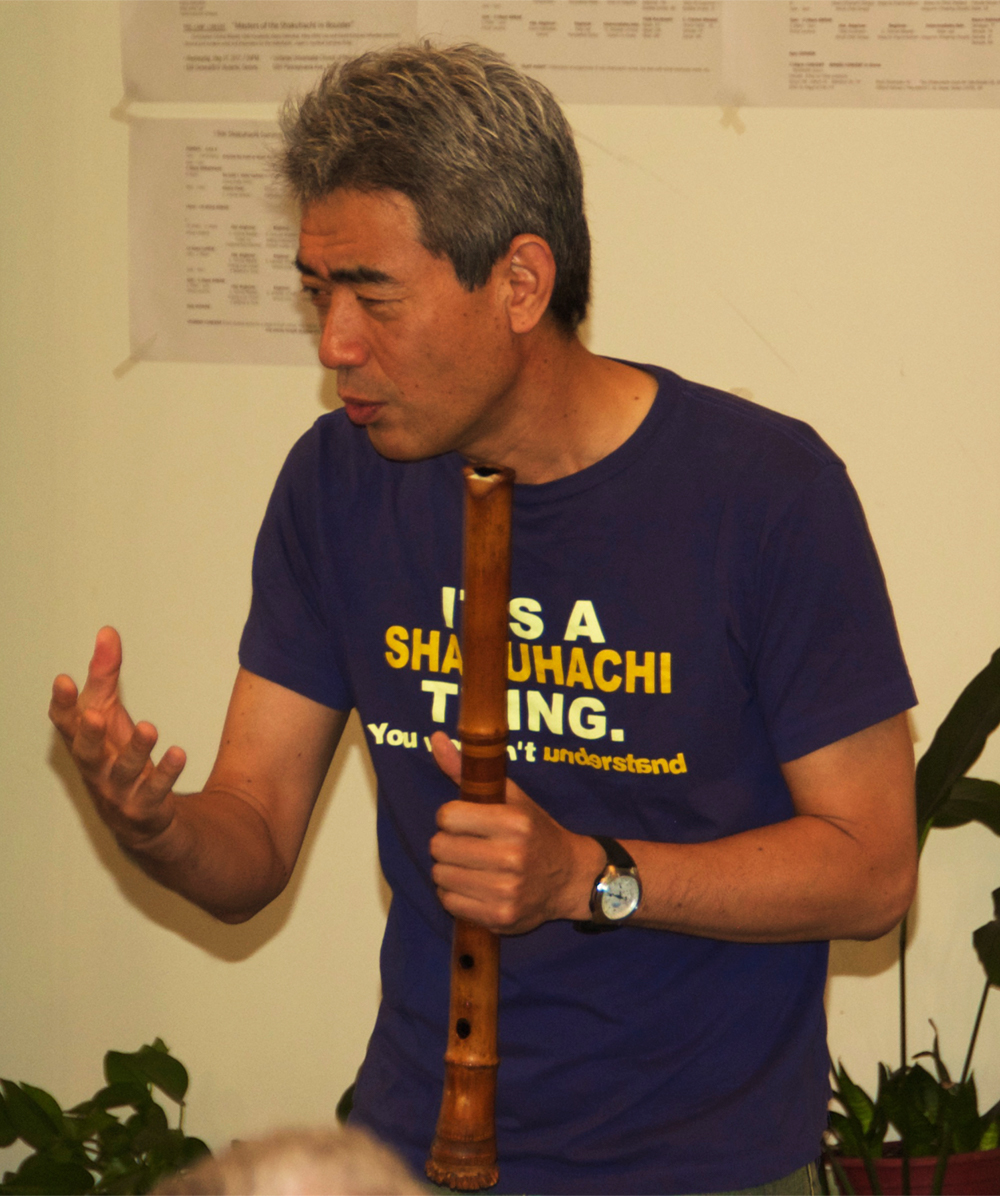 Participation
Shakuhachi Camp participation will directly enhance any shakuhachi player's musical life. Participants at camp will study with some of the world's finest masters of the shakuhachi, learning and practicing a wide repertoire of pieces—some in preparation for the Camp's Student Concert and Duet Night—and attending lectures and workshops regarding all aspects of shakuhachi theory, history and practice. You are welcome to join in a variety of extracurricular activities, including Sunrise Ro-buki, Morning Yoga and Meditation and evening socializing, in a full-time celebration of this instrument, its music and its community.
Beginners welcome! Beginner students will be provided their own core curriculum, and all levels, from absolute beginner (even if you've never before picked up a shakuhachi!) to advanced, will have the opportunity to study a select number of pieces with a thoroughness and depth not possible in other festivals or workshops.
Bilingual
When needed, lectures and classes will be conducted bilingually in English and Japanese.