During this global pandemic, Sunrise Ranch is working hard to keep our community and future visitors safe by practicing physical distancing, working from home whenever possible, delivering meals and groceries to residents, postponing classes and events, holding all meetings and services on Zoom, caring for our elders and helping each other with errands in town.
---
Sunrise Ranch includes those of us who live here and form the core of this community.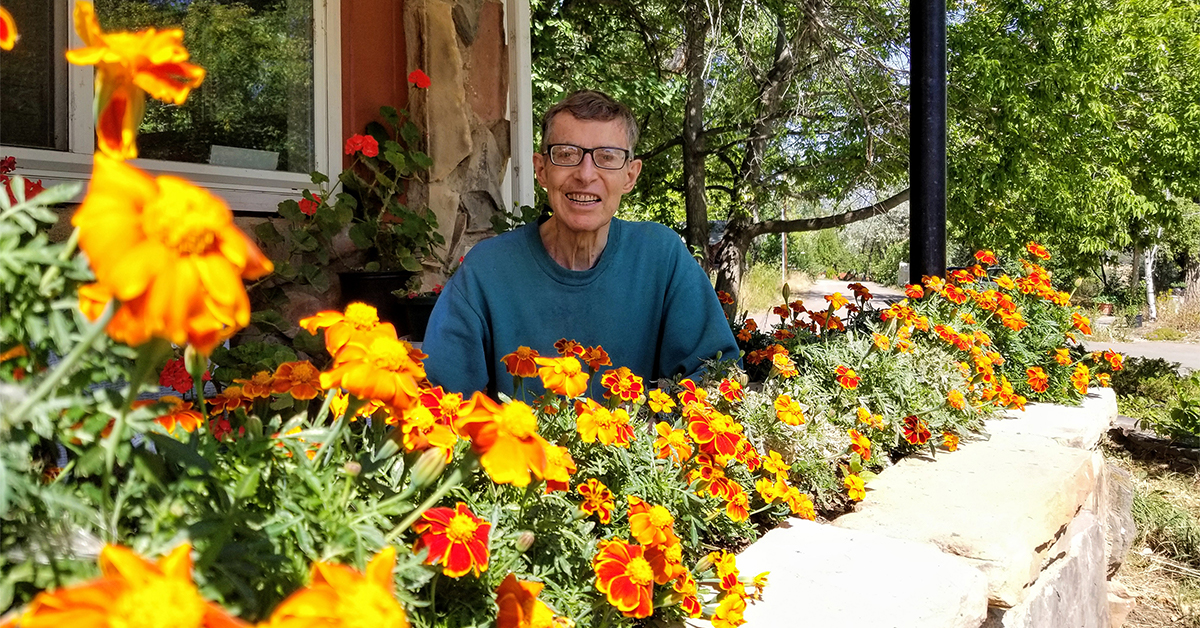 Postmaster Jerry shows off his marigolds on the porch of the Admin Building on September 4, 2020.
We are an intentional spiritual community, passionately committed to our conscious evolution. We are also committed to each other and what we are bringing to the world together. Most of all, we are devoted to the spirit of Universal Love that brought us together and inspires us every day.
Sunrise Ranch was founded in 1945, and we are one of the oldest intentional communities in America. We welcome anyone who visits here and anyone who connects with us in virtual space—on our website, on Facebook, or on our mailing list. To us, you are all part of our community. We see ourselves as part of the broader community of awakening human beings all around the world.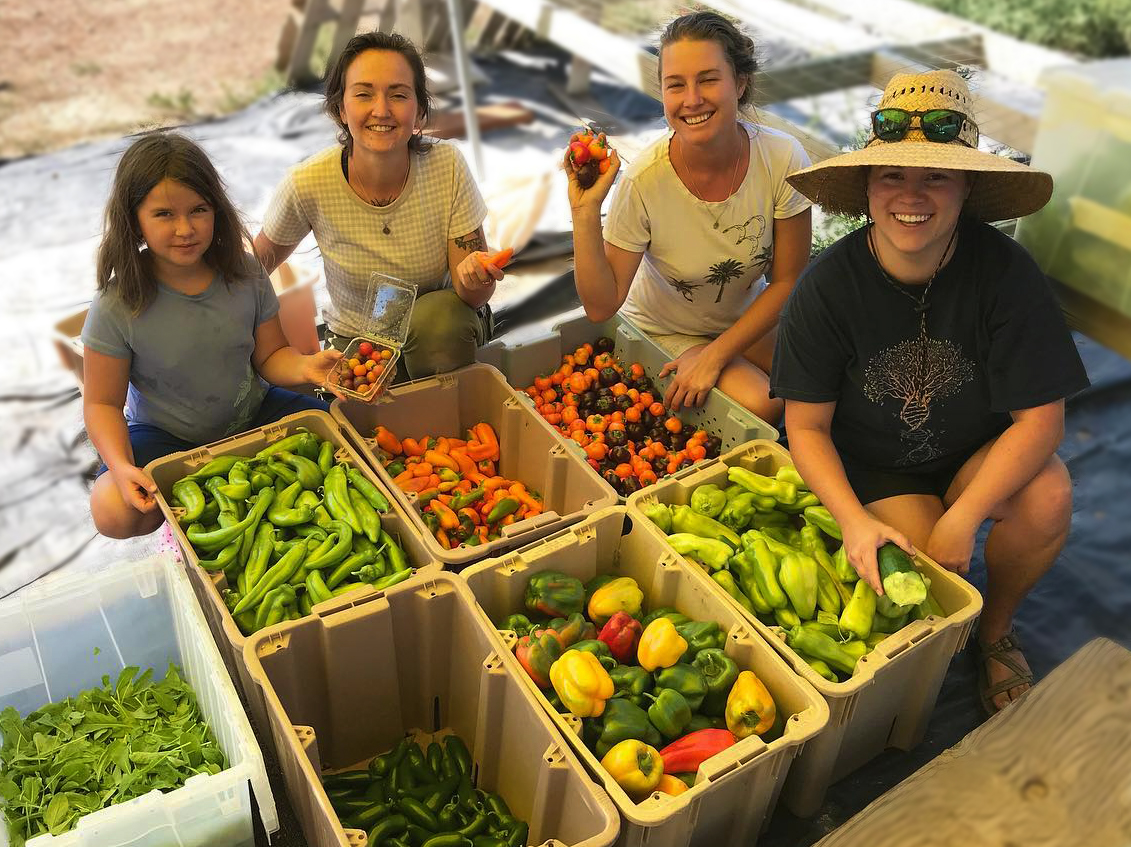 Charlotte joins some of the Garden/Greenhouse Team—Amanda, LeAnn and Jackie—as they pose with their delicious veggies for sale at a farmers market.

We find we are entering a new paradigm for how people relate to each other. In a world where neighbors in housing developments and apartment buildings often never meet, we are finding new ways to connect with people of all ages and from many diverse backgrounds. We know that when people come to Sunrise Ranch, they feel the surround of love substance in this valley. This spiritual atmosphere has formed out of all the loving service from people down through the decades and from the communion with nature and the land itself. As the Sunrise Ranch community of today, we feel responsible for this atmosphere and for our contribution to it. It is the atmosphere of true home.
Our everyday spiritual practice includes a deep commitment to personal transformation, so that we become a living expression of Universal Love. That means that we commit ourselves to an unconditional expression of that Love. That's where the rubber meets the road. We transform as we express Universal Love in the face of whatever happens and whatever may arise in our own thoughts and emotions. We meet regularly as a community (these days by Zoom) to share our vision and insight and to support each other in our transformational process. And we find a deeper attunement with the source of life and inspiration within us. We welcome anyone to join us for our
regular Sunday service
, by live-streaming video.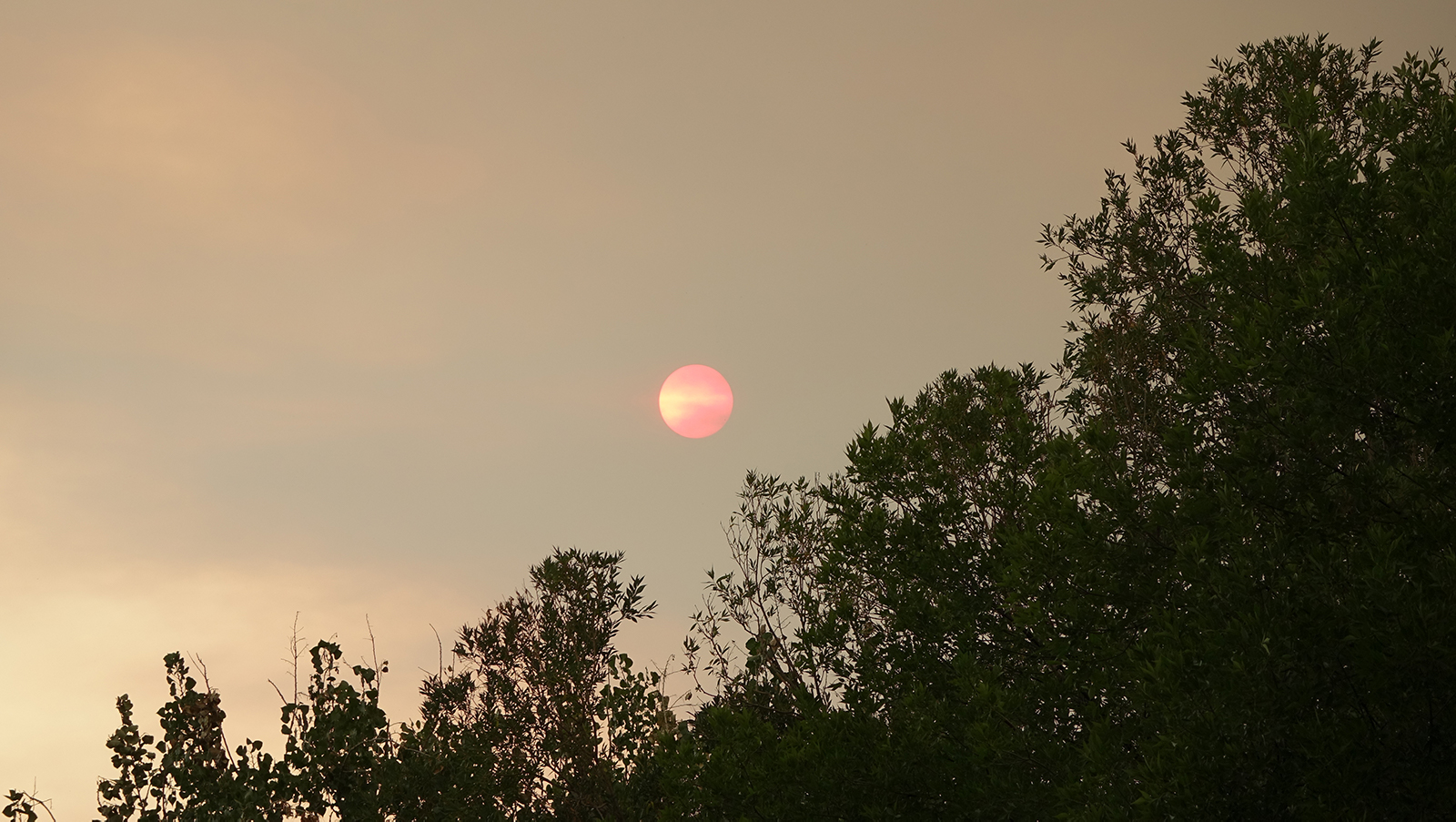 Wildfires near the Ranch resulted in smoky air, a red sun and yellow sky on many September days. High heat and dry conditions meant that fires grew rapidly and were difficult to contain. Sunrise Ranch was on alert for possible evacuation.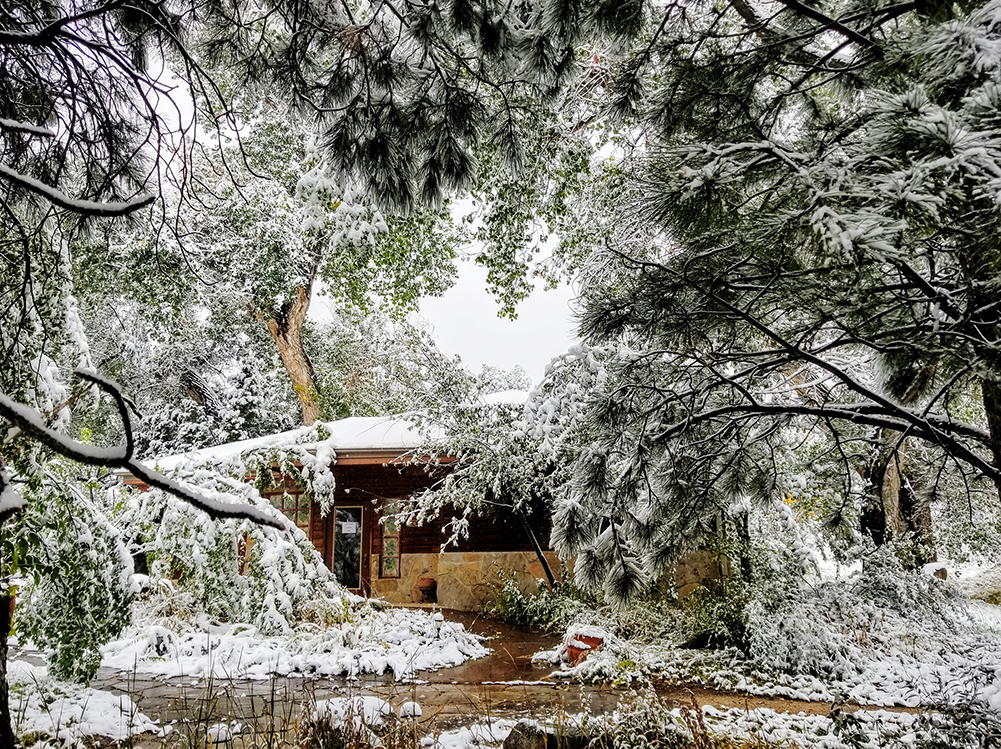 There was a near 70-degree drop in temperature from September 6 to September 8, and a mixture of rain and snow cleared the air. Tree branches near the Sanctuary were weighted down with snow.
David Karchere is the Spiritual Director for Sunrise Ranch. He works closely with Dr. Jane Anetrini, a minister at the Ranch, and with the Trustees of Emissaries of Divine Light. Children and seniors play a vital role in the life of Sunrise Ranch. We are also joined by non-residential staff who assist us with some of the essential functions of the Ranch. Interns also assist with the work of the Ranch and are an integral part of our community.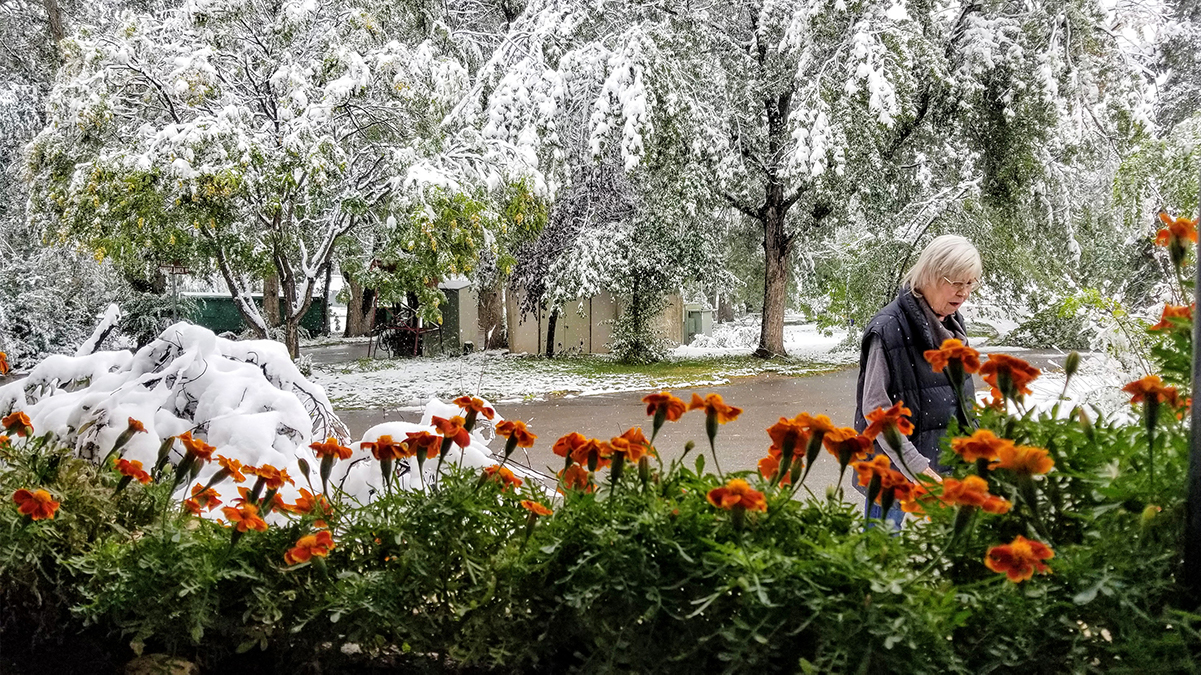 Linda walks past the Admin Building's marigolds on September 9, with snow-covered trees behind her.
There are members of our community who have lived at Sunrise Ranch for more than 50 years, and there is usually at least one person living here who has arrived within the past month. Typically, people who join the core staff at Sunrise Ranch come first as a visitor or as a participant in our Full Self Emergence Program. (The program has been suspended for 2020, but we hope to have it in full swing again next year.)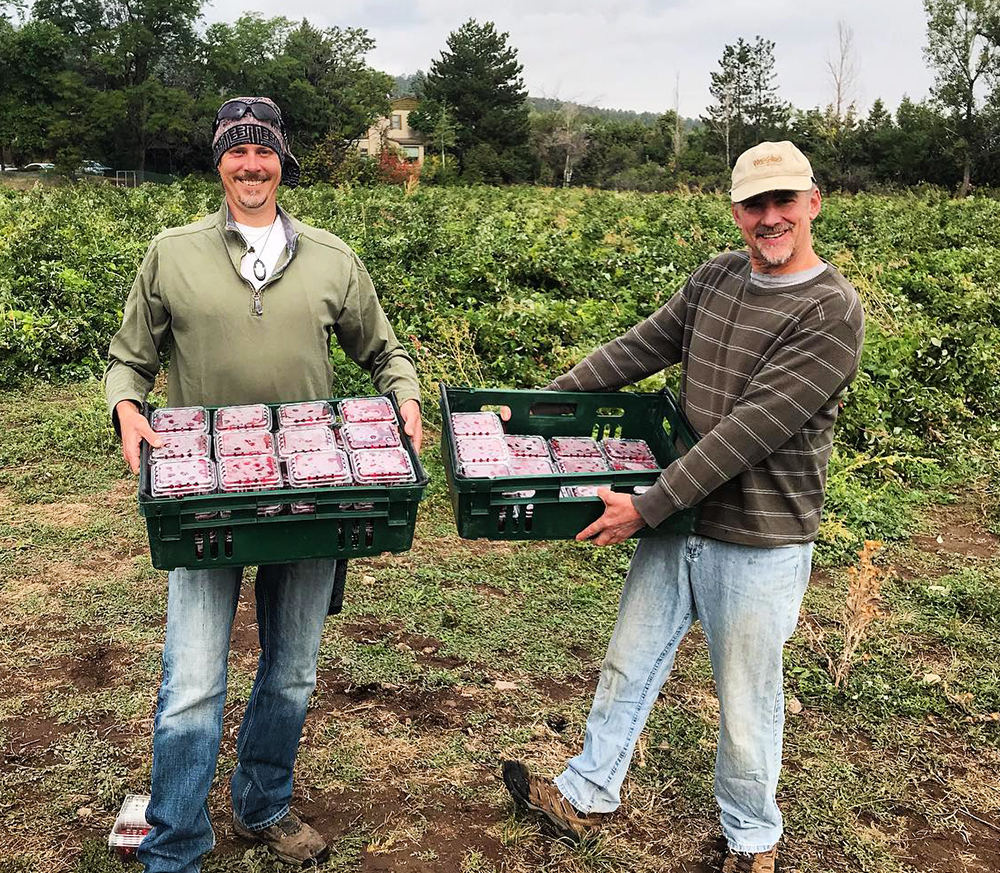 The snow didn't last long. Gary and Bruce show off a harvest of raspberries in the garden on September 12.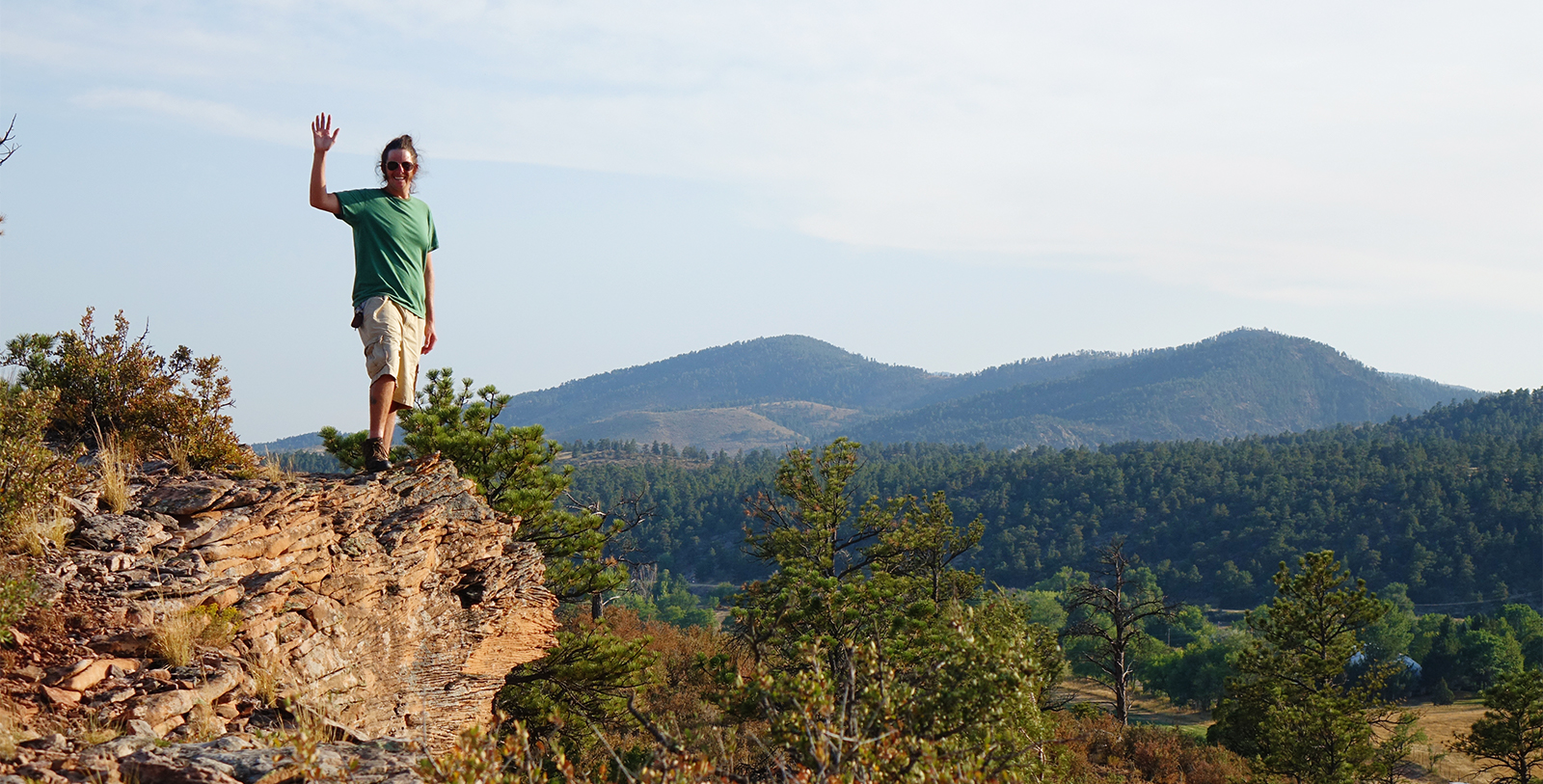 Chase waves from an outcropping overlooking Eden Valley while on a hike.
Residential Opportunities
Community living is not for everyone, but it delivers a dimension of connection that most people inherently desire. Imagine knowing people in your life on a more intimate level through sharing an intention and living it through your work and home life. People come to Sunrise Ranch to learn principles of universal truth and personal responsibility for the life they have created, to transform their daily living, meaningful work and interpersonal relationships, and to renew their sense of joy and connection with others. They become a loving presence of influence in their world.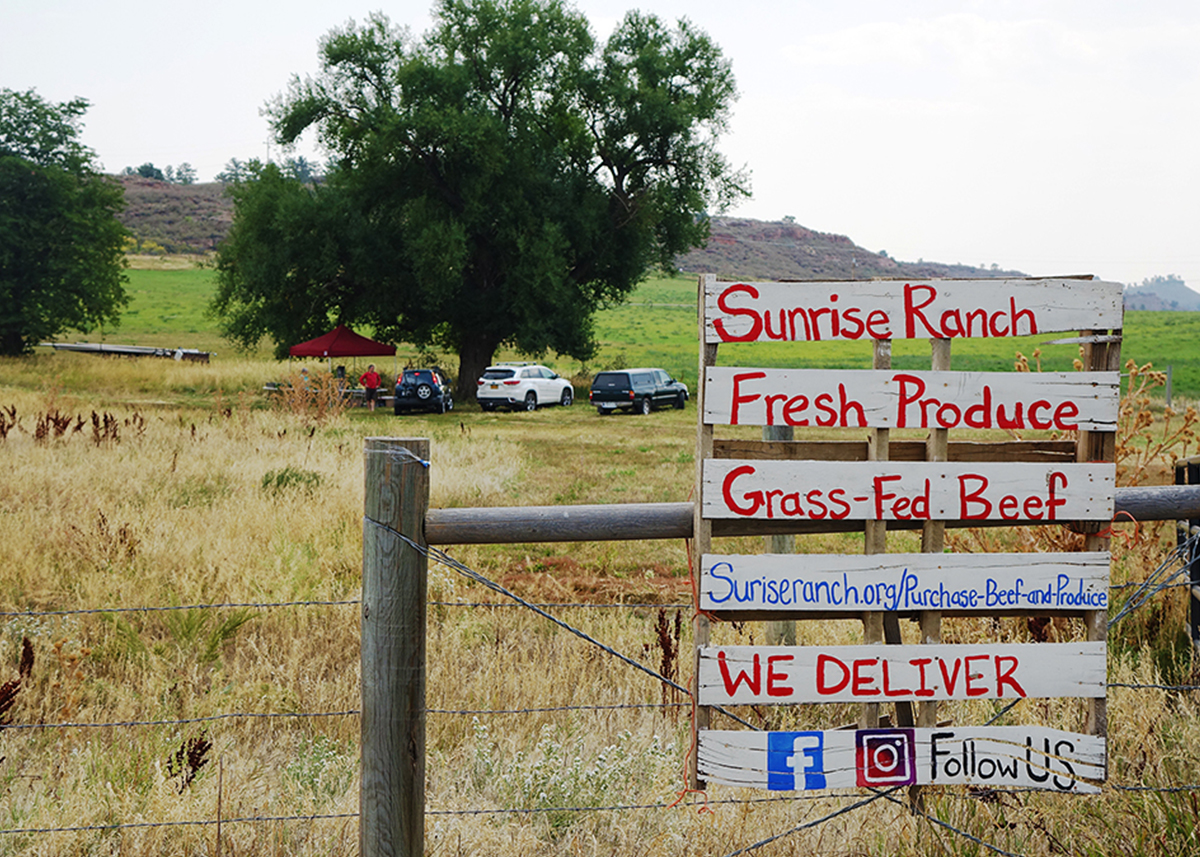 Signs direct people traveling on County Road 29 to stop by our farm stand, located across from the Ranch's gardens.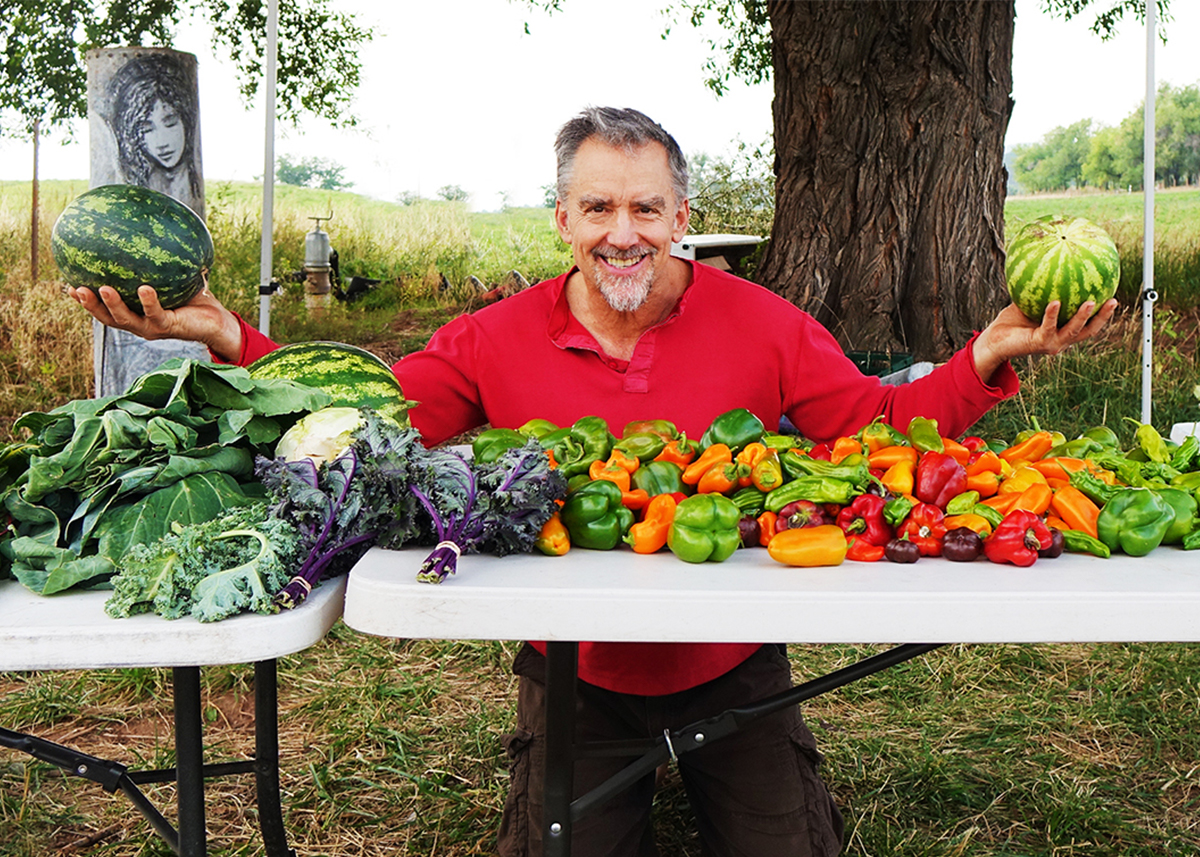 Bruce smiles over a table full of colorful, healthy vegetables at the farm stand on September 19.
Skilled Openings
Being a full-time community as well as resort and conference center, we also offer skilled openings—job positions that require specific or specialized skills. We are seeking talented people to join our spiritual community as full-time residents and members of our staff. As a resident, you can participate in the spiritual life of the community and help us continue to strengthen Sunrise Ranch as a teaching and demonstration site for thriving community. Pay is negotiable. Please visit the Job Opportunities Page for current position listings.
To learn more about living and working at Sunrise Ranch, contact the Registrar office at recruiting@sunriseranch.org or feel free to call us at 970-679-4251.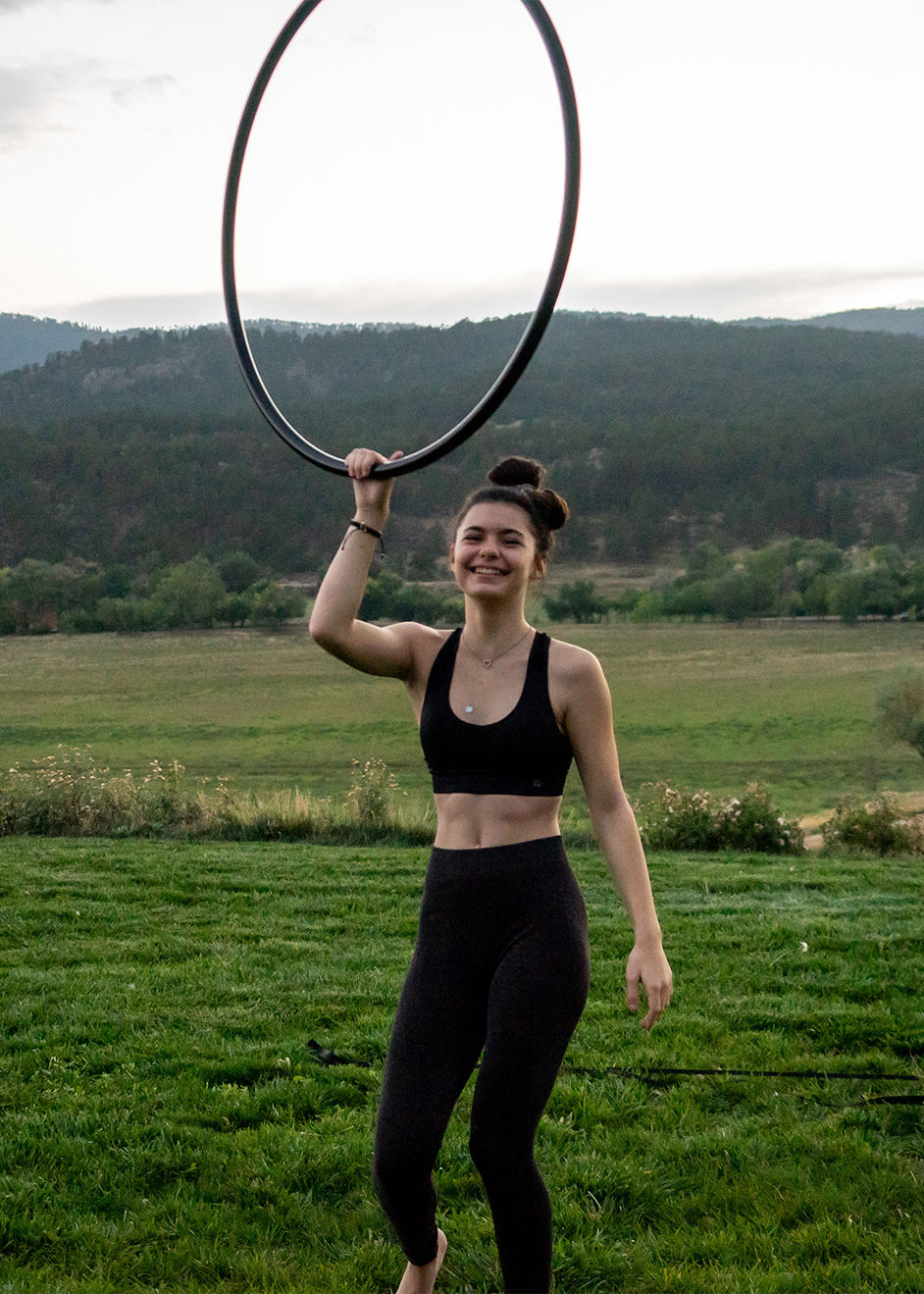 The Ranch had a community event September 19th called Celestial Bodies in Motion. It included aerial "prayerformances," stargazing and storytelling. Phoenix holds on to one of the aerial hoops used during the evening.
Patrick juggles during the Celestial community event up at the Rimrock Fire Pit area overlooking Eden Valley.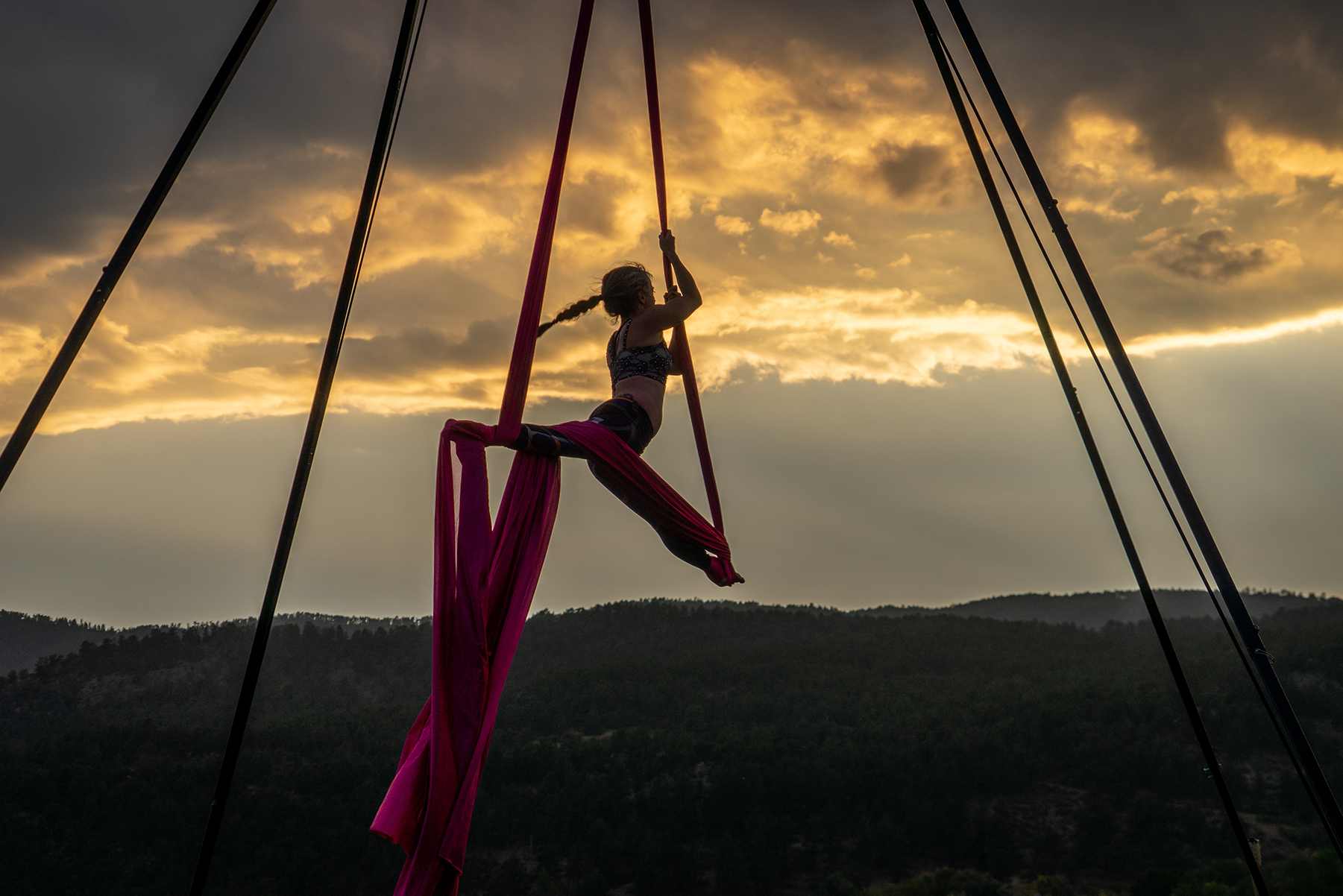 One of the aerial performers for the Celestial Bodies in Motion event is seen against a dramatic sunset in our beautiful valley.
"Never doubt that a small group of thoughtful, committed citizens can change the world. Indeed, it is the only thing that ever has."
— Margaret Mead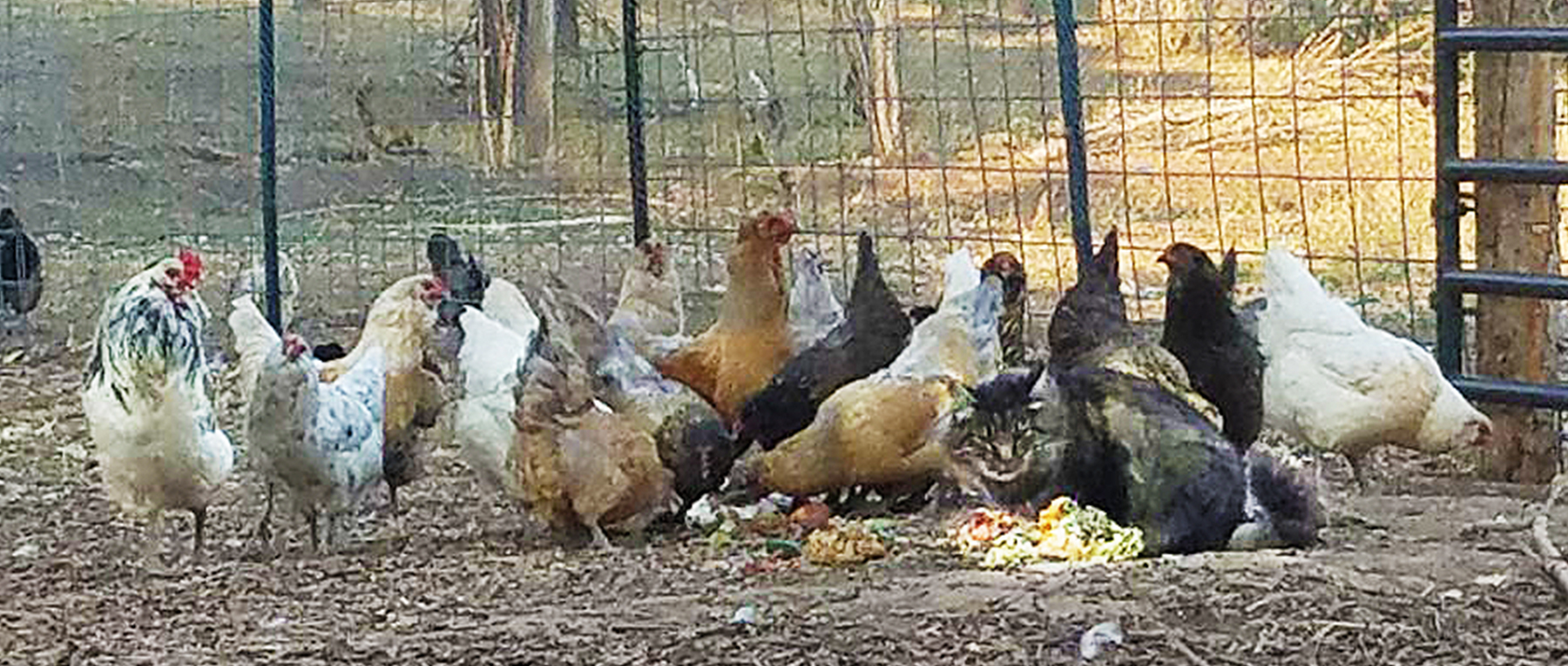 Tyrone the cat enjoys a meal of table scraps along with the chickens on September 29, while Lucky, the rooster on the far left, seems irritated over the situation.