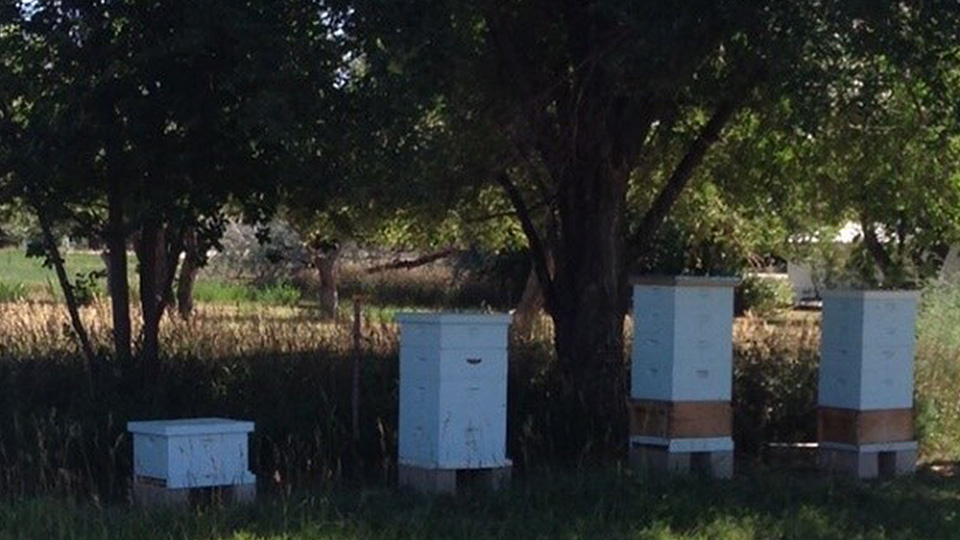 By Matthew Kroger
For all who have not had the opportunity to meet me, I thought I might share a little about myself. I am a Colorado native who was raised on a small farm in La Porte, Colorado. I live with my family, my wife and two daughters, in the town of Loveland, Colorado. With a couple of decades of construction under my belt (pun intended), I decided to return to my agricultural roots and take up a new venue with beekeeping.



After talking with my oldest sister, I found out that our father had kept bees and that I would be a seventh-generation beekeeper. I had finally found my calling! After a couple of months apprenticing under a veteran beekeeper, he told me, "Matt, you don't need my help. You have an inherent ability for this and you just need to listen to your instincts." So I did. I am happy to report that I've had better-than-average success by listening to not only my instincts but what the bees tell me, too. I am a biodynamic bee host and merely facilitate a hospitable domicile for the bees to carry out their choice of lifestyle. I don't like the term "beekeeper." The word "keeper" is stifling and it connotes dominion over any other species. We are all brothers and sisters on this planet and it is up to each individual to decide where he or she fits into the circle of life. I am a bee steward.
My short-term goal and methodology: bee hives.



Sadly, it is a real challenge to keep bees alive with the climate change and toxic environmental hazards in our current era. With that said, I will be locating bees in the most protected year-round and advantageous locale for their health, safety and welfare. Next I will be supplying them with the best equipment that provides for the bees' health to combat the current diseases plaguing the honey bee. If absolutely necessary, I will provide organic cane sugar syrup feed and supplement this feed with essential oils specifically blended for their immune system and digestive health.
One of my mid-term goals is to locate feral colonies and utilize them for their genetic material. This may sound rather cold and calloused, but when done holistically it is quite beneficial for both the managed bees and feral bees. What happens is the colonies that have been introduced will be within a quarter-mile and the drones will interbreed between colonies when a queen is produced. This breeding acclimatees the bees to the specific locale of the colony. This is why once a colony is established and healthy it is best not to move it, and why I am against the deplorable practice of migratory beekeepers.
Another of my mid-term goals involves bee products. After a full growing season of working with the bees at Sunrise Ranch, I will have a better knowledge base to pull from regarding the quantity and variety of bee products that the bees will be able to share with Sunrise Ranch. Products include springtime pollen (when it is in abundance), honey, summertime propolis and a small amount of beeswax every third year. The amount of products bees are able to produce is in direct correlation to a cocktail of conditions that include:
• springtime temperatures (bees need a minimum temperature of 55 degrees in order to leave the hive and forage)
• monthly rainfall
• summer temps and forgeable plants within a five-mile radius
• competition from feral colonies/neighboring managed hives and the distance from a clean water source of their own choosing.



I also have personal goals for this investment … . Yup, this employment opportunity is beneficial for all involved. What I want to gain from this is the enlightenment of sharing my passion for bees and demonstrating how they provide a good barometer to measuring the vitality of the environment at large. I also want to help others to see the sacred and divine in the life cycles. Most importantly, I want to share with others the nature of the honey bee social structure in the bees' day-to-day life. We can learn a lot from the bees if we listen and practice what they share. There are no tangible assets I wish to obtain from bees at Sunrise Ranch as I already have my own hives establishing themselves throughout Loveland proper.
My long-term goal, which I plan to accomplish within a three-year time frame, is a biodynamic apiary that can be managed with minimal input for pollination of the garden for the community on Sunrise Ranch. The aforementioned bee products will aid in the health and prevention of allergies that the community may face.