---
By Justen Deason
A young woman named Andrea Vanderbilt has joined Sunrise Ranch as our Greenhouse Manager. She graduated from Colorado State University with the focus of plant management and had a lead role in operating the campus greenhouse. She also organized and led the protest against the school's attempt at flattening the old gardens there in favor of a football field. When telling me this story, she said, "There are 35-year-old grapevines there. You can't just replace those!"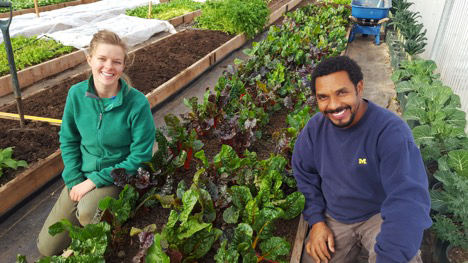 Her passion and drive are evident and clearly fuel her work ethic. She is excited to be with us. Welcome, Andrea!
I don't think I have enough words with enough gravity to describe what Ignacio Perez Contreras has done for us and countless others. Every week without fail he amazes me more. He is one of the greatest storytellers I've ever known, and the theme always seems to be food sovereignty. He believes in the common man's ability to grow food and provide for one's family. He has spent years nurturing Eden Valley's successful food system. He has been across the globe teaching— always teaching—anyone and everyone who will listen about food cultivation.
Ignacio continuously put in 60, 80, 100 hours weekly for us. I would find him at 4 in the morning working, 9 at night working, Sundays, Saturdays, days off, you name it.
He can build sheds, do plumbing, electrical work, jury rigging, fix a car and so many other things. His solutions are always creative and practical. He designed the layout and built the infrastructure inside the greenhouse with the help of his team. He now hands that well-built system over to Andrea to manage. This man has a heart of gold, and his words and actions are always kind yet full of empowered action. His leadership has been inspiring, compassionate and always insightful.
Ignacio is a multi-generational farmer. His family lives in the Dominican Republic on a homestead he built, complete with off-grid power, gardens, greenhouses, livestock and vast fruit orchards. As much as he devotes himself to his work and helping people empower themselves, he said something to me one day that I will never forget: "Your fields won't take care of you when you're sick; your family will."
As sad as I know he is to leave, it is for his family he does so. Best wishes, my friend. You have changed my life in ways so many ways, I could never hope to describe them all.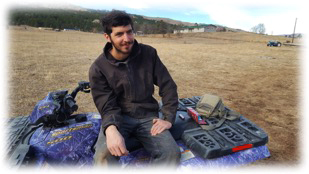 Orr Newman is a hardworking and interesting fellow. He sings and plays the ukulele by campfire in a humble, folkish way. He is wise, farsighted, analytical, understanding and gentle beyond his years. Much like Ignacio, he does not give up on his work until a solution is found. He is the man in the field every day, without fail, tending the cows, fixing and building our farm's infrastructure and doing whatever else is required of him.
Orr taught me the beauty of Shabbat, the Jewish Sabbath, which begins every Friday at sunset. During this wonderful weekly observance people rest, intentionally gather with each other, and enjoy homemade food, bread and wine, and each other's company. I think that this should just be a thing, everywhere, in every culture.
Alec Solimeo came down from atop a mountain somewhere with two kids and his partner, Cassie. He's the man with the plan: Alec is successfully retooling the farm and restoring the cattle herd with the help of Derik Lane, Andrea (in the greenhouses) and Michael Costello. "Grit" was a word he brought to us. He is practical, stalwart and passionate about people. He has taught me a great deal already in areas of purpose, teamwork, civil disobedience and empowering kids.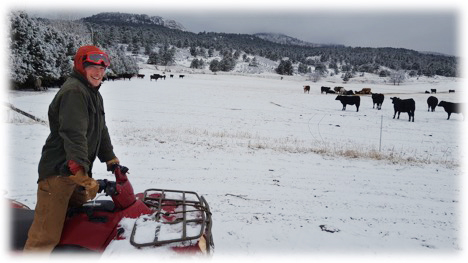 Alec illustrates well how Spirit is tied to and results from action—especially intimate interaction with and observation of one's natural environment. Alec believes deeply in community and has done many things already to encourage people to gather naturally and enjoy each other's company. He wants to recreate the previous farm internship in a new and creative way, revealing some of his spiritual beliefs in the process. To combine work with poetry, song, comradery and spirit is the basic idea.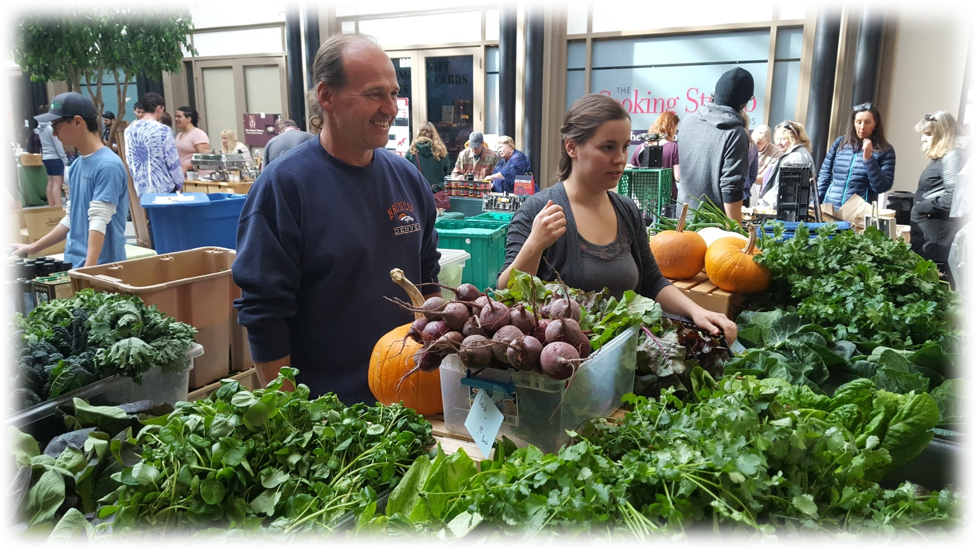 Jackie and Derik help customers at a farmers market, and you can just make out Chris Browne and Brittany Coates promoting our beef in the back left of the picture.
While offering support in leadership, Derik is able to focus more on one of his passions: seed saving, a keystone practice in sustainable agriculture. This is the first and most vital step in creating a relationship with land and food. By doing this, he not only saves thousands of dollars a year in seeds, he is able to sell surplus seeds to other locals and also ensure we will always have a windfall. As he was telling me how just a couple square yards of carrots can create a quarter million seeds, I realized how true it was that nature operates on abundance.
Seed saving also protects and propagates naturalization—the term used when plants and animals adjust genetically to their environment. This results in increased vigor, productivity and adaptation to climate and soil. Who knows what other outcomes this might have? Perhaps the successive plant children learn how to help the environment they live in? Normally, seeds come from a factory farm located who-knows-where. That's like taking me from these mountains and putting me in the Congo or the Alps. Thank you, Derik.
Mushrooms
We are expanding our mushroom cultivation this year after a successful prototype run last year. A shipping container is being secured to provide a better growing environment and more square footage. The old "mushouse" is being converted into the Spawn Shack and Laboratory. No kidding, you need a lab to do the first steps. I have six species I'd like to nail down this year. Our neighbor Eden Valley Institute of Wellness is interested in spawn (similar to seed) from us for its own cultivation purposes, and I plan to explore the sale of spawn online. We will have surplus mushrooms available for the farmers market and the CSA (Community-Supported Agriculture) program that's beginning here. This is the year I will integrate companion planted fungi into places throughout the greenhouse and garden and observe the benefits to our soil and plant productivity—and we hope to reap an extra crop!
Philosophy
What is something we've all done once today? Hopefully twice, likely three times? Pee, yes, but that's not what I'm referring too. I'm talking about eating. Probably once by yourself and another time with people you love and care for. I hope it was social and fortifying, spiritually as well as physically. I hope some of you pause to thank our Earth and the people who labored to bring sustenance to you.
It does not matter how affluent, popular or spiritual you are if you cannot receive this nourishment. Food is the cornerstone of the health of our vessel. It is the source of so much dis-ease in our world today. It is our simplest and most primal way of attuning with our world, within ourselves and our Earth. Food is life. Food is something that all people and creatures of this world understand and need, no matter the language or creed. It is childhood memory, a comfort and a source and the center of humankind's great gatherings, indigenous festivals and the celebrations of our very existence. Indigenous … intrinsic.
The phrase I wish to leave you with is "food sovereignty." This is the ability of each individual and every group of people to provide sustenance for themselves. If we cannot achieve this, we are nothing. Our children have no future. Currently, our food supply is reliant on trucking and shipping from places across the globe. It resides in feed lots and industrial farms so toxic and deadly the vitality is sapped from it and from the land. Did you know that factory milk contains so much bad stuff it HAS to be pasteurized or it will make you VERY ill? But happy-cow raw milk can be consumed raw because the animal itself is healthy to begin with. Same species, different results. So I implore you: Learn where your food comes from.
Learn the effects of its creation upon our Earth, for it is something that will always be present in our lives and the lives of all living beings for every generation to come. Know this, know each other, know your future.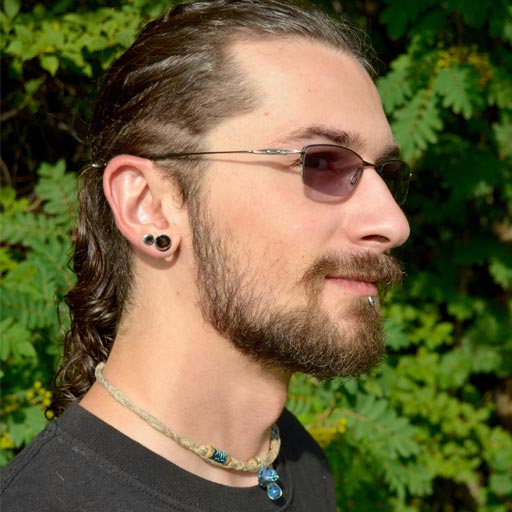 Justen Deason has been a demi-chef at Sunrise Ranch for several years and has worked to harmoniously integrate the garden and kitchen operations at Sunrise Ranch. He is Ranch Manager, working with all of the animals, fixing fences and caring for the land. He also practices primal living, spirituality and cultivation of a peaceful warrior mentality.