The Permaculture Action Course is a comprehensive program that will take you through the permaculture design process; touching on soils, water, forest gardening, appropriate technology, and several other aspects of whole systems design.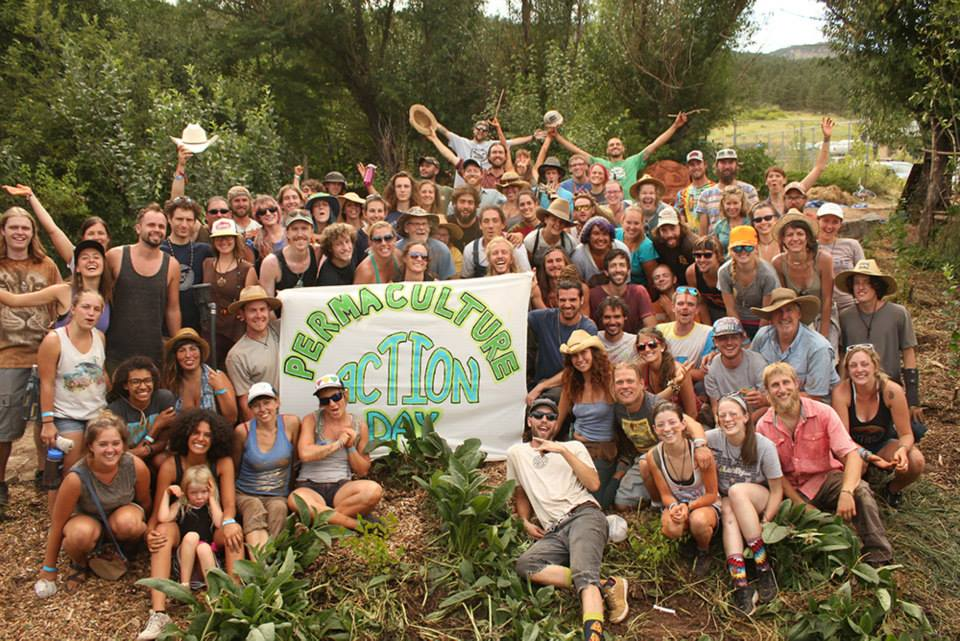 With a focus on catalyzing social transformation, you will learn techniques for regenerating ecology and explore community building through action-oriented organizing.
With experts in their respective fields teaching Natural Building, Rainwater Harvesting, Earthworks, Forest Gardening and more, this course will leave you with the practical tools to actually start building the world you want to live in. This course will lead into an on-site Permaculture Action Day before the Arise Music Festival and will incorporate the theme of exploring large, temporary human gatherings such as festivals and the long-term positive impact they can have on the land.
Course description
Course: Monday, July 31st, to Wednesday, August 2nd.
Action Day: Thursday, August 3rd.
The course will include three days of full-on permaculture education and community building, including: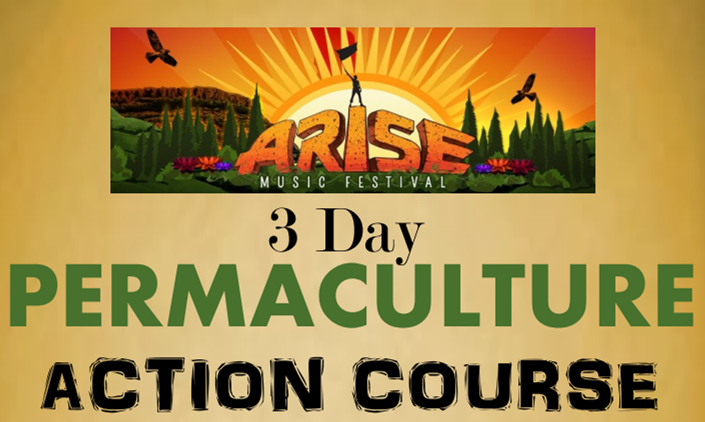 permaculture design process
rainwater harvesting and earthworks
introduction to permaculture
natural building and appropriate technology
regenerative tools and techniques
permaculture gardening and food forestry
applying ecological principles
social permaculture
community organizing methods
soils and composting
Attendance is limited to 30 students! Secure your ticket today!
Cost: $379 ($199 registration plus $60 a night (three nights: $180) camping fee.
Ticket includes:
A three-day permaculture intensive course followed by a Permaculture Action Day, all on the festival site at Sunrise Ranch
Festival Early Arrival Access (with first choice of camping for the whole week)
Three organic meals per day, Monday through Wednesday (breakfast included on Thursday, Aug. 3, but not on Monday, July 31)
On-site camping
Arrival and check-in: 8-9 a.m. Monday, July 31st (early arrival on July 30th is available for $75 extra).
First session begins at 9:30 a.m. on Monday, July 31st.
All participants in the Action Course and Action Day must depart the west side of the valley by 3 p.m. on Thursday, Aug. 3, and may enter the festival with an ARISE Music Festival wrist band.
Action Day description
Thursday, August 3rd, 9 a.m. to 3 p.m. FREE!!
The 2017 SunArise Permaculture Action Day will be focused for the third consecutive year  in the Permaculture Orchard at Sunrise Ranch. We will be integrating principles and techniques explored during the three-day SunArise Permaculture Class on Monday, Tuesday and Wednesday, leading up to the Action Day on Thursday, August 3. During the Action Day, we will be planting, mulching, building stone walkways, finishing our cob oven, constructing a timber-framed archway, applying Biodynamic and mycorrhizal inoculants, and more! Come join us for a day of community building, live music, complimentary lunch and grounding through practical applications of holistic wisdom. This event is open to the public with limited positions available, so register now and we will see you there!
Want to invite friends to join you at the Permaculture Action Course on facebook? Go to the Permaculture Action Course event page here.
Action Day videos: