We welcome you to a powerfully immersive quantum energy experience for all types of integrative and holistic health practitioners, energy medicine professionals, yoga and nutritional specialists.
Gain deeper meaning and profound personalized insights as you expand your knowledge of cutting-edge research, science and applied applications in quantum energy medicine and health sciences.
Our experience will provide new information and practical perspectives on what you can do with quantum biology and physics in healthcare! Join us in exploring and integrating the latest research, science and technologies of bioenergetic medicine, restorative food and transformative alignment of yin and kundalini yoga.
Align your own body, body field and nutrition first and get those aha moments! Be truly ready to bring forth new understandings and gained experiential insights to your clients for more integrated, deeper and personalized health alignment.
Would you like to learn how to significantly expand your client outreach with simple and state-of-the-art remote health technologies? We'll teach you how to work with anyone, anywhere, empowering your clients and their families from the convenience of their homes with the latest bioenergetic tools.
Do you want to see the unseen in your own health and wellness?
Do you want to see and feel the energy systems in your body and where you can make powerful connections and corrections?
Do you want to see and experience the first ever combination of biology and chemistry, Chinese medicine, quantum physics and bioenergetic medicine?
Here are two introductory videos: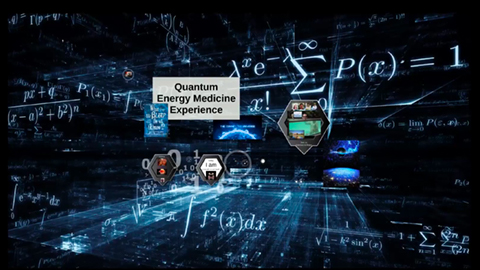 Key Topics
We'd like to invite you to immerse in a quantum journey …
Communication – The Key To Quantum Healing
How can we restore communication with ourselves and our environment?
Quantum Energy Medicine and How To Align Yourself
Only if you are aligned to yourself can you treat your patients well!
Kundalini Yoga As A Transformative Healing Technique
Once awakened, kundalini energy, the inner potential energy that lies latent in each individual, can bring about extraordinary healing and transformation.
Scaling In Nature – Communication And Cooperation Are The Basics For Life
Learn about our place in the universe—back from a sidearm of the milky way into the center of the universe—we are important and powerful beings!
NES Health as a Quantum Information System To Be Explored
NES Health – showing a way for electrons to be in the right place at the right time—happy biochemistry—happy cells—happy us!
A Debilitating Disease Leads to a Healthy New Business and Life
Transforming a crippled body into a thriving powerhouse. Learn how low lectin meals restored Irina's body, mind and spirit and made her an entrepreneur.
Inflammation's Role In Healing And Transformation:The role of important omega 6 & 3 fatty acids
EPA and DHA bring down inflammation and make your brain work!
Explore lectins, their impact on your gut health, and how to easily incorporate low lectin foods into your diet!
NES Health as a Quantum Information System for Yourself and your Clients
Your personal blueprint experience with a NES assessment. Start optimizing your energy, mental clarity and love!
Meet Your Neurotransmitters as They Relate to "Anger," "Fear," "Joy", "Disgust" and "Sadness"
Why do I feel sad if there is nothing to be sad about? Why do I feel angry so often when I've never before experienced this in my life?
How to Interpret and Influence your Neurotransmitter Profile
Get to know your emotions from the score of your personal neurotransmitter profile!
How Chakras and Energy Contribute To Your Health As A Practitioner
How does the balance of our 7 major energy 'wheels' affects our thoughts, actions, patterns, well-being, health vs. disease and overall "positivity" of the body?
"The Connected Universe" Movie from Nassim Haramein
Explore new understandings in science that reveal a bigger picture of interconnection than what we have ever imagined.
Autoimmunity Problems – Does The Body Make Mistakes?
There is always a cause of autoimmune problems—we need to find them.
The Story Behind The mihealth—An Innovation in Healthcare
We are electromagnetic beings—the miHealth talks to us in a language our body understands.
The NES mihealth Device—Rejuvenate Yourself!
Energetic Rejuvenators align the energy flow through your meridians and tissues.
How The Water in Our Bodies Acts as a Battery and What Forces Keep it from Pooling Around our Feet?!
Integrate the great and profound knowledge of Professor Gerald Pollack's research and work in structured water science!
On Psychosomatic Energetics
Using PSE—how strong is your electromagnetic body? Find important "energy vampires" and remove them.
End of Program: Special Universal Connection